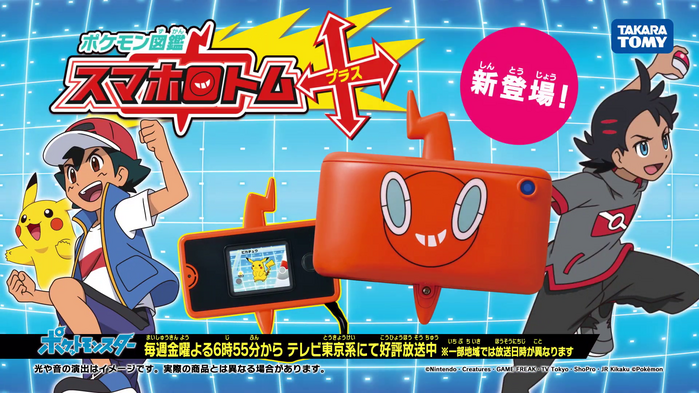 The
TAKARA TOMY - Pocket Monsters Pokémon Zukan Rotom Phone+ (ポケットモンスター ポケモン図鑑 スマホロトム+)
will be released in Japan on October 16th, 2021 for 10,990 yen (tax included).
Pictures of the product have been added to an Imageboard thread
.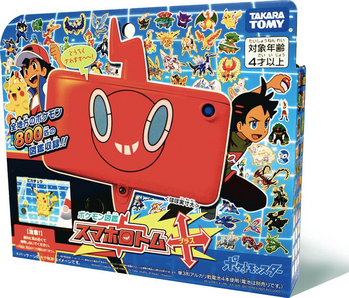 Product Details:
TAKARA TOMY - Pocket Monsters Pokémon Zukan Rotom Phone+
ポケットモンスター ポケモン図鑑 スマホロトム+
Release Date: October 16th, 2021
Batteries: AA alkaline batteries x 4 (sold separately)
Item No.: 4904810186540
Manufacturer: Takara Tomy
Brand: Pokémon
Package size: W220 x H150 x D40mm
Target age: 4 years old ~
Price: 10,990 yen (tax included)
Product Description:
Find Pokémon with body actions, register them in the zukan, jump at the right time, quickly avoid attacks, and find Pokémon with 24 different body actions that use all of your bodies movements! Look around 360 degrees, scan Pokémon like Satoshi and Go, and register them in the zukan!
Contains 800 Pokémon from all regions! The latest Pokémon, as well as legendary and Mythical Pokémon! You can learn about Pokémon with the same authentic voice as in the TV anime! There's also a "Gigantamax Zukan" and a "Mega Evolution Zukan"!
Have fun with the Pokémon you set as your buddies! You can play and take pictures with your Pokémon friends at Sakuragi Park. You can also challenge them in battles to become a Masters Eight!
Get the most out of Zukan Rotom Phone+ with its 28 functions! Look up Pokémon, receive missions and messages, and more! It has many of the same features as the TV anime smartphone Rotom! Satoshi, Go, and many other characters will also appear!
Link the "Get Monster Ball Go!" with the Rotom Phone+! It is not possible to connect to telephone lines or the Internet. The camera, chat, and messaging are for play within the toy.
Source:
https://takaratomymall.jp/shop/g/g4904810186540/
YouTube Clip - TAKARA TOMY - Pocket Monsters Pokémon Zukan Rotom Phone+ CM
Source:
https://www.youtube.com/watch?v=rqnUoEbS72g