Pokémon Masters - Sync up and Cooperate!
DeNA has announced a sweepstakes for Pokémon Masters that takes place from October 18th, 2018 until October 31st, 2019, where people have a chance to win some Pokémon Center merchandise.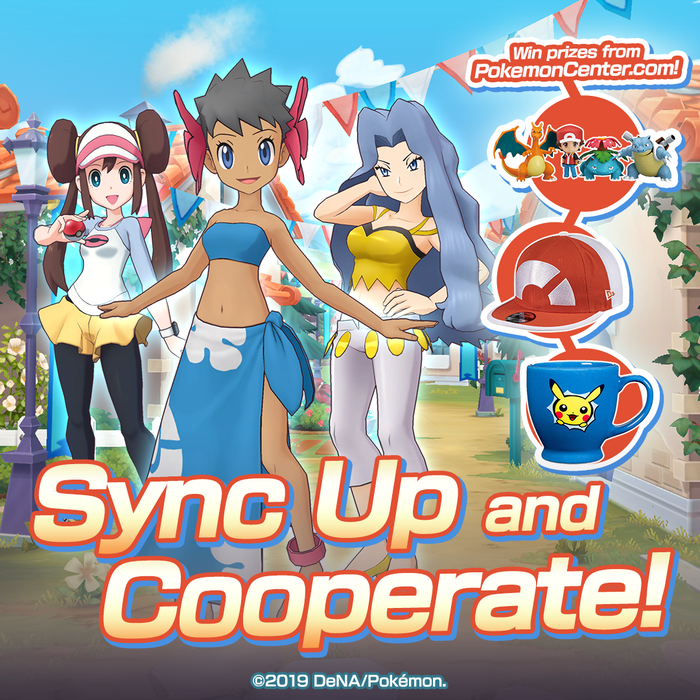 Pokémon Masters Sync up and Cooperate!
From October 18 at 9:00 a.m. PDT to October 31, 2019, at 11:59 p.m. PDT, you can enter our sweepstakes for the chance to win App Store / Google Play gift cards and special prizes from PokemonCenter.com.
To enter, complete any of the actions listed below. These range from visiting our official community pages to tweeting a picture of your very own special "sync-up"—a screenshot of your co-op battle team or a picture of you and your friends getting ready to enjoy some Pokémon Masters together!
To increase your chance of winning, you can complete all available actions once for a total of 25 entries.
We'll be choosing five winners total, and prizes include the following:
1× Nendoroid Pokémon Trainer Red: Champion Ver. Posable Figure + $100 gift card
1× Pokémon: Let's Go Trainer Baseball Cap + $50 gift card
1× Hip Pop Parade Mug (Pikachu) + $25 gift card
2× $25 gift card
Please provide accurate contact information to be eligible to receive our prizes. Winners will be notified from November 1 (PDT) to November 7 (PST), and failure to reply within 24 hours may result in forfeiture of any potential prizes. This contest is only available to residents of the United States and Canada.
Rules subject to change at the discretion of DeNA, Co., Ltd.
Source:
https://gleam.io/9gMKr/pokmon-masters-sync-up-and-cooperate