Pokémon Center - MIKASA and MIZUNO Sporting Goods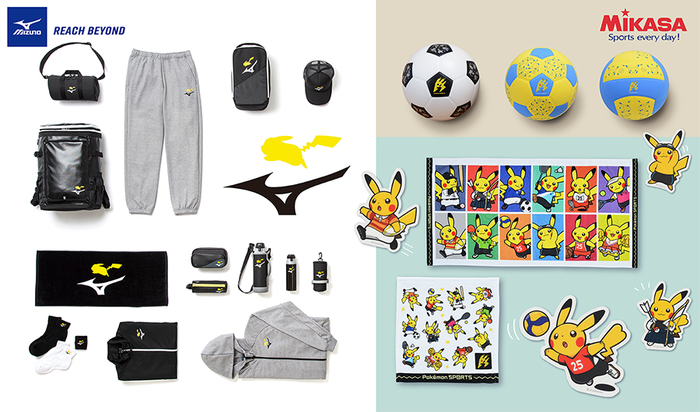 The Pokémon Center will begin selling sporting goods from makers MIKASA and MIZUNO starting on August 15th, 2020. The line include volleyballs and soccer balls with Pikachu designs, monster ball designs, and more. MIZUNO goods include warm-up jackets and pants, T-shirts, rash guards, shoe cases and Boston bags, all of which are perfect for sports and outdoor leisure. The MIZUNO logo and Pikachu silhouette are very cool. There are also goods of Pikachu in various sports uniforms. Let's enjoy sports and leisure with Pikachu! The Pokémon Center Online will begin selling them from 10:00 a.m. on Thursday, August 13th, 2020.
*
Please Note:
Depending on the situation, the release date
may be postponed or canceled
.
Mikasa Corporation
They manufacture and sell sports equipment for volleyball, soccer, basketball, handball, dodgeball, water polo, and other ball sports. The brand's responsibility and goal is to deliver and support the joy and fulfillment that comes from ball games and exercise for people of all ages and across national borders.
Mizuno Corporation
A comprehensive manufacturer of sporting goods. Under the management philosophy of "contributing to society through the promotion of better sporting goods and sports," the company not only supports the sports scene, but also develops products and services that utilize the value of sports and actively promotes its value in our daily lives.
Items: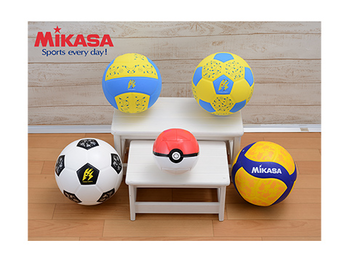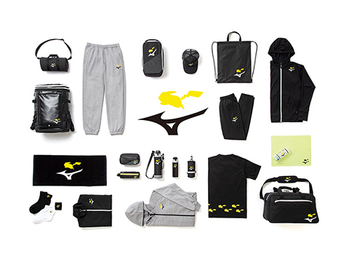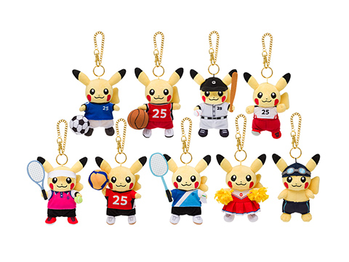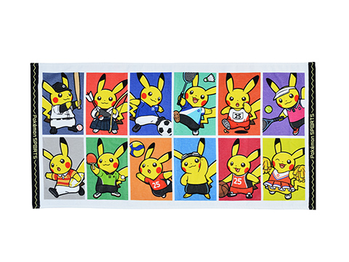 At the Amazon.co.jp Pokémon Store, pre-orders for products with a (★) will be starting on August 15th, 2020 and sales starting on August 22nd, 2020 but due to the limited number of products available, they may be sold during the pre-order period.
Items:
MIKASA Volleyball No. 5 Pokémon SPORTS - 5,500 yen (★)
MIKASA Soccer Ball No. 5 Pokémon SPORTS - 5,940 yen (★)
MIKASA Smile Soccer Ball No. 4 Pokémon SPORTS - 3,300 yen (★)
MIKASA Smile Dodgeball No. 2 Pokémon SPORTS - 3,300 yen (★)
MIKASA Monster Ball Pokémon SPORTS - 3,190 yen (★)
MIZUNO Practice T-shirt Pikachu Junior (120/130/140) - 3,850 yen (★)
MIZUNO Practice T-shirt Pikachu UNISEX (S/M/L/XL) - 4,400 yen (★)
MIZUNO Pouch Pikachu - 1,870 yen (★)
MIZUNO Pen Case Cylindrical Pikachu - 1,100 yen (★)
MIZUNO Short Socks Pikachu White (21-23cm/23-25cm/25-27cm) - 1,650 yen (★)
MIZUNO Short Socks Pikachu Black (21-23cm/23-25cm/25-27cm) - 1,650 yen (★)
MIZUNO Cap Pikachu Junior F - 3,300 yen (★)
MIZUNO Cap Pikachu UNISEX - 3,300 yen (★)
MIZUNO Sports Towel Pikachu - 1,320 yen (★)
MIZUNO Wristband Pikachu - 1,210 yen (★)
MIZUNO 0.99L stainless steel bottle with Pikachu Cover - 4,950 yen
MIZUNO One-Touch Bottle 0.5L Pikachu - 3,520 yen (★)
MIZUNO Bottle Holder Pikachu - 2,090 yen (★)
MIZUNO Shoe Case Pikachu - 2,200 yen (★)
MIZUNO Laundry Bag Pikachu - 1,980 yen (★)
MIZUNO Mini Drum Shoulder Bag Pikachu - 2,420 yen (★)
MIZUNO Boston Bag Pikachu - 8,250 yen (★)
MIZUNO Backpack Pikachu - 14,300 yen (★)
MIZUNO Warm-up Jacket Pikachu (XS/S/M/L/XL) - 9,900 yen (★)
MIZUNO Warm-Up Pants Pikachu (XS/S/M/L/XL) - 8,800 yen (★)
MIZUNO Rash Guard Pikachu Junior (120/130/140) - 4,400 yen (★)
MIZUNO Rash Guard Pikachu UNISEX (XS/S/M/L/XL) - 6,600 yen (★)
MIZUNO Swim Towel Pikachu - 2,750 yen (★)
MIZUNO Sweat Hoodie Pikachu (XS/S/M/L/XL) - 9,900 yen (★)
MIZUNO Sweatpants Pikachu (XS/S/M/L/XL) - 8,800 yen (★)
Mascot Pokémon SPORTS Soccer - 1,320 yen (★)
Mascot Pokémon SPORTS Basketball - 1,320 yen (★)
Mascot Pokémon SPORTS Baseball - 1,320 yen (★)
Mascot Pokémon SPORTS Athletics - 1,320 yen (★)
Mascot Pokémon SPORTS Tennis - 1,320 yen (★)
Mascot Pokémon SPORTS Volleyball - 1,320 yen (★)
Mascot Pokémon SPORTS Badminton - 1,320 yen (★)
Mascot Pokémon SPORTS Cheerleading - 1,320 yen (★)
Mascot Pokémon SPORTS Swimming - 1,320 yen (★)
Mascot Pokémon SPORTS Pikachu with Megaphone - 2,200 yen (★)
Acrylic Keychain Pokémon SPORTS Soccer - 770 yen (★)
Acrylic Keychain Pokémon SPORTS Basketball - 770 yen (★)
Acrylic Keychain Pokémon SPORTS Baseball 770 yen (★)
Acrylic Keychain Pokémon SPORTS Athletics - 770 yen (★)
Acrylic Keychain Pokémon SPORTS Tennis - 770 yen (★)
Acrylic Keychain Pokémon SPORTS Volleyball 770 yen (★)
Acrylic Keychain Pokémon SPORTS Badminton - 770 yen (★)
Acrylic Keychain Pokémon SPORTS Table Tennis 770 yen (★)
Acrylic Keychain Pokémon SPORTS Kyudo 770 yen (★)
Acrylic Keychain Pokémon Sports Cheerleading - 770 yen (★)
Acrylic Keychain Pokémon SPORTS Rugby - 770 yen (★)
Acrylic Keychain Pokémon SPORTS Swimming - 770 yen (★)
Acrylic Keychain Pokémon Sports Cheering - 770 yen (★)
Die-cut Sticker Pokémon SPORTS Soccer - 330 yen
Die-cut sticker Pokémon SPORTS Basketball - 330 yen
Die-cut sticker Pokémon SPORTS Baseball - 330 yen
Die-cut Sticker Pokémon SPORTS Athletics - - 330 yen
Die-cut sticker Pokémon SPORTS Tennis - 330 yen
Die-cut sticker Pokémon SPORTS Volleyball - 330 yen
die-cut sticker Pokémon SPORTS badminton - 330 yen
Die-cut sticker Pokémon SPORTS Table Tennis - 330 yen
Die-cut Sticker Pokémon SPORTS Kyudo - - 330 yen
Die-cut sticker Pokémon SPORTS Cheerleading - 330 yen
Die-cut sticker Pokémon SPORTS Rugby - 330 yen
Die-cut sticker Pokémon SPORTS Swimming - 330 yen
Die-cut sticker for Pokémon SPORTS - 330 yen
A4 clear file - Pokémon SPORTS - 275 yen
Hand towel Pokémon SPORTS - 550 yen (★)
Face Towel Pokémon SPORTS - 1,100 yen (★)
Mini Bath Towel Pokémon SPORTS - 2,750 yen (★)
Source:
https://www.pokemon.co.jp/info/2020/07/200731_p01.html