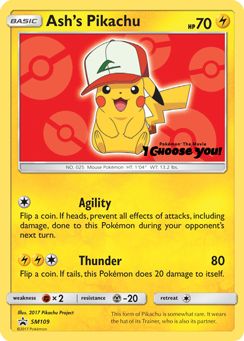 #109: Ash's Pikachu
| | |
| --- | --- |
| Card Type | Basic (Pokémon) |
| Energy Type: | |
| Species: | Pikachu [Cards] |
| HP: | 70 |
| Weakness: | x2 |
| Retreat Cost: | |
| Rarity: | Promo |
| Artist(s): | |
Starting November 8, 2017, Pokémon devotees could receive a pack of three random Ash's Pikachu promo cards for each $25 spent on Pokémon TCG products (tax and shipping not included). In all, there were six different promo cards to collect! This Pokémon TCG promotion was offered at the following retailers:
Online Only:
PokemonCenter.com
Target.com
Toysrus.com
Toysrus.ca
Walmart.com
Walmart.ca
In Stores Only:
GameStop
EB Australia
EB Canada
Attacks
Agility
Flip a coin. If heads, prevent all effects of attacks, including damage, done to this Pokémon during your opponent's next turn.
80
Thunder
Flip a coin. If tails, this Pokémon does 20 damage to itself.