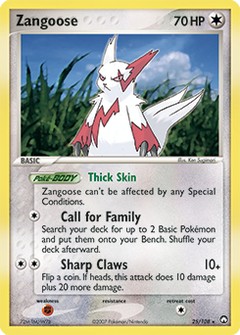 #25: Zangoose
| | |
| --- | --- |
| Card Type | Basic (Pokémon) |
| Energy Type: | |
| Card Type: | Basic Pokémon |
| Species: | Zangoose [Cards] |
| HP: | 70 |
| Weakness: | |
| Retreat Cost: | |
| Rarity: | Rare |
| Artist(s): | |
Thick Skin
Zangoose can't be affected by any Special Conditions.
Attacks
Call for Family
Search your deck for up to 2 Basic Pokémon and put them onto your Bench. Shuffle your deck afterward.
10 - 30
Sharp Claws
Flip a coin. If heads, this attack does 10 damage plus 20 more damage.