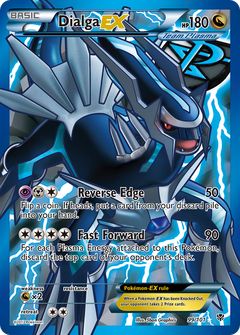 #99: Dialga EX
| | |
| --- | --- |
| Card Type | EX (Pokémon) |
| Energy Type: | |
| Species: | Dialga [Cards] |
| HP: | 180 |
| Weakness: | x2 |
| Retreat Cost: | |
| Rarity: | Rare Ultra |
| Artist(s): | |
When a Pokémon-EX has been Knocked Out, your opponent takes 2 Prize cards.
Attacks
50
Reverse Edge
Flip a coin. If heads, put a card from your discard pile into your hand.
90
Fast Forward
For each Plasma Energy attached to this Pokémon, discard the top card of your opponent's deck.