January 8th, 2013 Announcement
The official Japanese Pokémon website has revealed that there will be a major announcement on Tuesday, January 8th, 2013. A Black 2 White 2 ad airing on Kids Station and other television stations in Japan has been broadcasting a notice at the end of the commercial indicating the same announcement date. The webpage tells people to bookmark it and not to forget to check out the page on that day.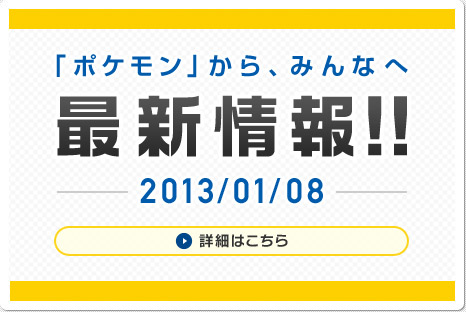 2013年1月8日(火)に、「ポケモン」から、みんなへ最新情報をお伝えするよ!!
2013年1月8日(火)にこのページで、「ポケモン」から、みんなへ最新情報をお伝えするよ!! お楽しみに!ぜひ、ブックマークしておいて、忘れずにこのページをチェックしてね!
Smash 117
Shigeki Morimoto
is scheduled to appear once again on
Smash 117
which airs on January 6th, 2013 according to Junichi Masuda's Twitter feed. Contrary to what many Pokémon fansites and news outlets are speculating about his appearance, this is a scheduled appearance as the last time he was on Smash was for the
4th Smash tournament as a judge and spectator
.
Both will
Shigeki Morimoto (森本茂樹)
and
Junichi Masuda (増田順一)
be taking a similar role in this episode as they did in the previous episode. Despite there being a large announcement on January 8th, 2013, it is
VERY
unlikely that Masuda or Morimoto will announce anything on
Smash 117
as most of the live action part of the episode will be filled with the tournament like last time. There is even more participants in this 5th tournament than in the 4th tournament, so they will already be stretched for time.
It is also
VERY
unlikely that The Pokémon Company would trump their own announcement by two days. Whatever the announcement is, Smash will cover it in their Marketing Department segment sometime mid to late January 2013.
Source:
http://www.pokemon.co.jp/ex/important_announce/
Official Pokémon Twitter
Pokémon fans, mark your calendars! Check http://Pokemon.com on January 8th for some big news!
Source:
https://twitter.com/Pokemon/status/287258497253515266