Disc Summary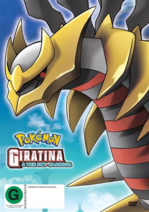 Pokémon: Giratina and the Sky Warrior
Audio Tracks:
English

Publisher:
Beyond Home Entertainment
Catalog #:
BHE7429
Release Date:
2016-11-16
Aspect Ratio:
16:9
Region Code:
Video Format:
PAL
Storage Medium:
DVD9
Closed captions?
No
Rental Only?:
No
Average Rating
Description
In a Reverse World, a Legendary Battle Rages on… Ash and his friends have never backed down from a fight, and they know all too well that sometimes the smallest things can make the biggest difference!

They meet up with a feisty and sharp-witted Pokémon named Shaymin. While attempting to reunite with its friends, Shaymin stumbles upon a titanic battle between Giratina and Dialga. Giratina is the sole defender of the Reverse World, and it does not suffer intruders lightly!

Add to the mix a helpful researcher, a dangerous villain who wishes to control Giratina, and a plan to rule the world, and you have all the makings of a Pokémon epic!

How will Ash and his friends get out of this predicament? Will the proud and stubborn Shaymin ever make it back to its friends in time? Find out in Pokémon: Giratina and the Sky Warrior!

Limited Edition 3D Packaging Exclusive To JB Hi-Fi!
Episodes

ギラティナと氷空の花束 シェイミ
Giratina and the Sky's Bouquet: Shaymin
Giratina and the Sky Warrior