Pocket Monsters 1000th Episode Event Report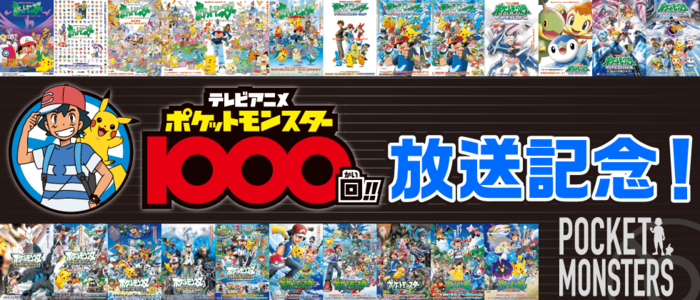 On Saturday, November 11th, 2017, a special event was held at
Sunshine City Fountain Square
to celebrate 1000 episodes of the TV animation series "Pocket Monsters". Various stage events were held throughout the day and Fountain Square was crowded with many Pokémon fans!
Learn "Pose" with Kiteruguma
Guest's Kei Shindo (Lilie VA's), Hitomi Kikuchi (Suiren VA's) and Fumiko Takekuma (Māmane VA's) entered and appeared on stage and were challenged to strike fully powered poses. Kiteruguma was then called on stage as the master to help the three struggling guest! The audience's eyes were locked on Kiteruguma as it performed some poses. Not to be outdone, the guests intensely practiced the poses: "Fire", "Electric", "Ghost" and "Fighting" with the fans in the audience. When they began to strike poses to the Pocket Monsters Sun and Moon Ending Theme "Pose", the audience applauded!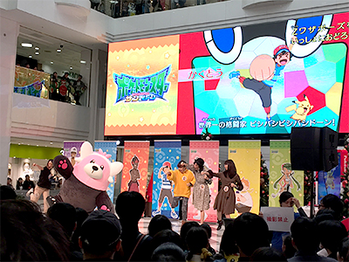 1000th Episode Celebration - Rica Matsumoto SPECIAL LIVE
Satoshi's voice actor Rica Matsumoto appeared on stage! With her partner Pikachu on stage with her, she sang the opening theme to Pocket Monsters XY&Z; "XY&Z" as well as the opening theme for Pocket Monsters Sun & Moon; "Alola!!".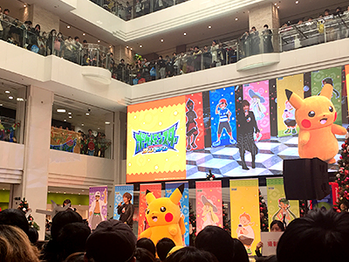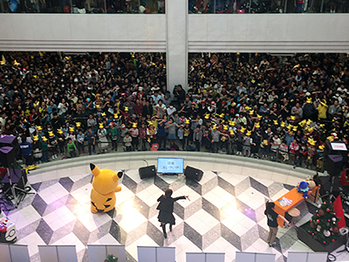 Pokémon Ga-Olé Special Stage
Ga-Olé Leader's Ren & Kazuki introduced Z-Moves using the Pokémon Z-Power Ring! Special guests Hideaki Takatori, Aya Ikeda and Tatsuyuki Kobayashi then sang the theme song of Pokémon Ga-Olé and livened up the stage.
Let's! PokéProblem!
In addition to Rica Matsumoto (Satoshi's VA), Kei Shindo (Lilie's VA), Hitomi Kikuchi (Suiren's VA) and Fumiko Takekuma (Māmane's VA), Keiichi Nakagawa who voices Professor Kukui joined the event on stage. Reina Ueda, Mao's voice actor also arrived. The Pocket Monsters segment PokéProblem is very popular and a quiz was conducted there on stage at the event. Those in the audience that correctly answered the quiz question from among the four options could raise their hand and they were given a special original tin badge! Children that got the badge directly from the guests were holding the badge with a joyful look.
Fully Powered! Pokémon School Finale Stage
Following "Let's! PokéProblem!" with the five guests, Kaito Ishikawa, Kaki's voice actor surprisingly appeared on stage!
At the end of the live event, Rica Matsumoto sang the theme song to this year's movie "Aim To Be A Pokémon Master - 20th Anniversary"!
Source:
http://www.tv-tokyo.co.jp/anime/pokemon1000/#171116