Welcome to PocketMonsters.net
PocketMonsters.net
is a fansite dedicated to all things Pokémon (ポケモン) and Pocket Monsters (ポケットモンスター). We are the premier site for news and information about all aspects of the franchise from around the world. We cover the
Anime
,
indexing the music
, the
Trading Card Game
, the
Games
, the
variety shows
, have a
large imageboard
,
forum
and much more.
Follow us on Twitter
and
Subscribe to our RSS Feed
for the latest updates!
Upcoming Episodes
New titles are revealed in various publications such as: TV guides, childrens' magazines, anime magazines, promotional posters and videos, official websites and official television programs. Titles and their translations are added to our
episode guide
and the chart below when the titles are revealed.
Feb 18
Today The Pokémon Company International revealed three new cards for the Pokémon Trading Card (TCG) game featuring Mr. Mime, JigglyPuff and Psyduck, as seen in the upcoming live-action movie, "POKÉMON Detective Pikachu." These Pokémon were some of the breakout stars from the highly-viewed first trailer for the movie.
Like the Detective Pikachu, Charizard and Greninja TCG cards previously announced, the newly revealed cards depict the Pokémon in their CGI movie likenesses and will be available at selected retailers across Europe starting on March 29th, 2019.
A First Look at Pokémon TCG: Detective Pikachu Cards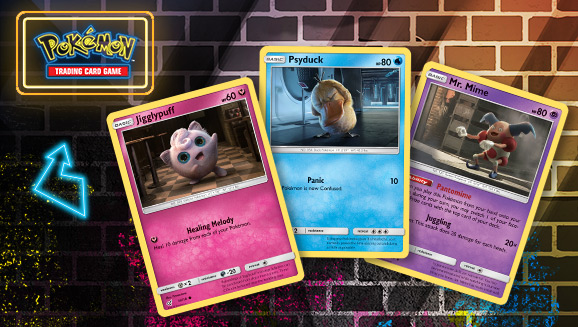 Fans everywhere are anxiously awaiting the theatrical release of the first live-action Pokémon movie, POKÉMON Detective Pikachu. To celebrate the upcoming film, a special selection of 26 new Pokémon Trading Card Game cards will be released, inspired by some of the Pokémon that will appear on the big screen. Let's look at some of the cards that show off these Pokémon as they appear in the film.
Jigglypuff:
With its big blue eyes, soft pink fur, and stylish curl, Jigglypuff is the epitome of adorable. This Fairy-type Pokémon isn't a heavy hitter, but its Healing Melody attack will heal 10 damage from each of your Pokémon.
Mr. Mime:
Mr. Mime may be sporting a smile, but we can't help but feel a bit unnerved by its vacant stare. Still, we would definitely take advantage of its Pantomime Ability, which allows you to switch one of your face-down Prize cards with the top card of your deck. It's certainly a useful move if you have a powerful card trapped in your Prize cards.
Psyduck:
Poor Psyduck seems to be suffering from a major headache! Given its soft-looking feathers, we wouldn't be against comforting it with a big hug. Perhaps Psyduck is suffering from the pain of knowing that it can't attack without becoming Confused. And that just makes us more sympathetic to the little Pokémon!
These are just a few of the cards that fans will be able to find in the Pokémon TCG: Detective Pikachu collection. Stay tuned for more fun reveals! Remember, booster packs for this special set will not be sold separately, so look for them in special collections starting March 29, 2019, where Pokémon TCG products are sold.
Source:
https://www.pokemon.com/uk/pokemon-news/a-first-look-at-pokemon-tcg-detective-pikachu-cards/

Article edited on 2019-02-18 10:44:16 by Sunain
Feb 15
Warner Bros. Pictures has posted another teaser trailer for Pokémon Detective Pikachu entitled "Big". The movie will be released in theaters on May 10th, 2019.
YouTube Clip - POKÉMON Detective Pikachu - "Big" | In Theaters This May
POKÉMON Detective Pikachu - "Big" | In Theaters This May
The world of Pokémon comes to life!
The first-ever live-action Pokémon movie, "POKÉMON Detective Pikachu" stars Ryan Reynolds as the titular character in the first-ever live-action movie based on the iconic face of the global Pokémon brand—one of the world's most popular, multi-generation entertainment properties and most successful media franchises of all time.
Fans everywhere can now experience Pikachu on the big screen as never before, as a talking detective Pikachu, a Pokémon like no other. The film also showcases a wide array of beloved Pokémon characters, each with its own unique abilities and personality.
The story begins when ace private eye Harry Goodman goes mysteriously missing, prompting his 21-year-old son Tim to find out what happened. Aiding in the investigation is Harry's former Pokémon partner, Detective Pikachu: a hilariously wise-cracking, adorable super-sleuth who is a puzzlement even to himself. Finding that they are uniquely equipped to communicate with one another, Tim and Pikachu join forces on a thrilling adventure to unravel the tangled mystery. Chasing clues together through the neon-lit streets of Ryme City—a sprawling, modern metropolis where humans and Pokémon live side by side in a hyper-realistic live-action world—they encounter a diverse cast of Pokémon characters and uncover a shocking plot that could destroy this peaceful co-existence and threaten the whole Pokémon universe.
"POKÉMON Detective Pikachu" also stars Justice Smith ("Jurassic World: Fallen Kingdom") as Tim; Kathryn Newton ("Lady Bird," TV's "Big Little Lies") as Lucy, a junior reporter following her first big story; and Oscar nominee Ken Watanabe ("Godzilla," "The Last Samurai") as Lt. Yoshida. Directed by Rob Letterman ("Goosebumps," "Monsters Vs. Aliens"), the "POKÉMON Detective Pikachu" creative filmmaking team includes two-time Oscar nominated director of photography John Mathieson ("The Phantom of the Opera," "Gladiator"), production designer Nigel Phelps ("Pirates of the Caribbean: Dead Men Tell No Lies") and Oscar-winning editor Mark Sanger ("Gravity"). Visual effects are by Moving Picture Company ("Wonder Woman") and Framestore ("Guardians of the Galaxy Vol. 2").
Source:
https://www.youtube.com/watch?v= fOvwcxtMaNk
Feb 14
Niantic has announced that there will be some upcoming changes to Pokémon GO starting during
Swinub Community Day
on February 16th, 2019 and a major change is
Stat Boosts
. Full details are in the notes below.
Community Note: Upcoming Changes to Pokémon GO
Trainers, We're excited to announce a major update to Trainer Battles in Pokémon GO—stat boosts! Starting this Saturday during Swinub Community Day, certain Charge Attacks will have a chance to trigger stat boosts in Trainer Battles. These stat boosts will persist on the affected Pokémon until they either faint or are switched out of battle. The first moves this update will impact are below.
Ancient Power: Chance to raise the user's Attack and Defense
Ominous Wind: Chance to raise the user's Attack and Defense
Silver Wind: Chance to raise the user's Attack and Defense
This is just the first of many updates to come, so stay tuned for more communications about Trainer Battles. As a reminder, Piloswine evolved into Mamoswine during Community Day event hours will learn the move Ancient Power, so don't miss out!
Source:
https://pokemongolive.com/en/post/statbooststrainerbattles2019/

Article edited on 2019-02-14 09:16:08 by Sunain
Feb 13
Niantic has announced the Valentine's Day event for Pokémon GO which begins on February 13th, 2019 and goes until February 21st, 2019. Pink Pokémon will appear more often in the game.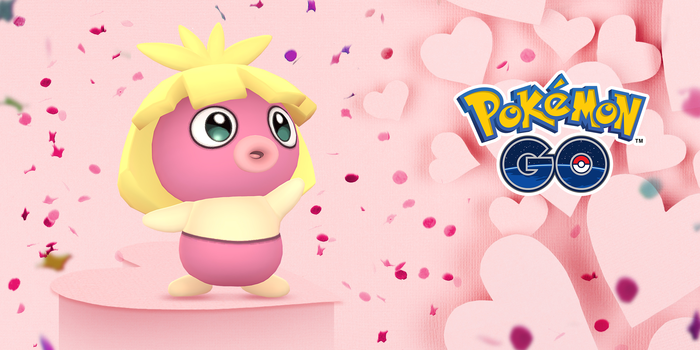 Pokémon GO Valentine's Day Celebration returns with pink-colored Pokémon!
Trainers, Gather up Poké Balls and turn on Adventure Sync—the Pokémon GO Valentine's Day Celebration features Pokémon that are pink! Beginning February 13 at 1 p.m. PST, Pokémon such as Clefairy, Hoppip, and Luvdisc will appear more frequently in the wild. Check out more details below:
Date + Time
Feb. 13, 2019, at 1:00 p.m. PST (GMT -8) to Feb. 21, 2019, at 1:00 p.m. PST (GMT -8)
Features
Pink Pokémon such as Clefairy, Hoppip, and Luvdisc will appear more frequently in the wild!
Certain pink Pokémon will hatch more frequently from 7 km Eggs!
Pink Pokémon such as Chansey and Porygon will appear more frequently in Raid Battles!
Bonuses
Lure Modules will last six hours for the duration of the event.
2× Catch Candy
Let's spread the love and enjoy special Valentine's Day Celebration bonuses! Stay safe, and happy exploring!
Source:
https://pokemongolive.com/en/post/valentinesday2019/

Article edited on 2019-02-19 10:29:44 by Sunain
Feb 12
Niantic has announced a new feature for Pokémon Go called
GO Snapshot
which allows players to take a photo of any Pokémon they have in their Pokémon Storage.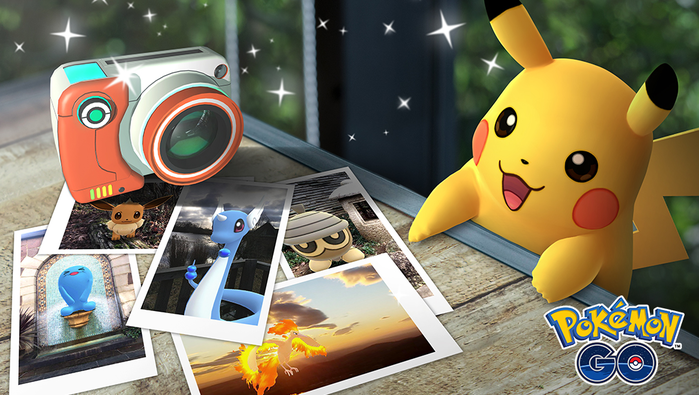 Snap off the lens cap on your inner photographer!
Trainers, We've been inspired by the photos you've taken with our AR+ feature. From the smallest Wurmple to the tallest Alolan Exeggutor, Trainers have taken amazing photos that show off Pokémon in their natural habitats. Today, we're happy to announce that a brand-new feature will arrive soon—one that's sure to make capturing the charms of your favorite Pokémon easier than ever!
Introducing GO Snapshot—an easy way to take a photo of any Pokémon you have in your Pokémon Storage! You can find the feature when looking at a specific Pokémon or accessing the camera in your Bag of items.
It's simple to use. Select a Pokémon and tap on the screen to throw its Poké Ball to that spot. Once your Pokémon is situated in the ideal spot, you can then move around it to find the best angle for your photo. Is your Pokémon distracted or looking the wrong way? Brush across it to get its attention, and it will be sure to face you.
Take as many photos as you like during your session. Once you're finished, all photos are saved to your device automatically! It's also easier than ever to share your favorite photo via social media. Just select the linked social channel you want to share with, and you can show your friends your masterpiece with a couple of quick taps.
We can't wait to see the amazing photos you'll take of your Pokémon! Don't forget to send us your works of art with #GOsnapshot, so we can show them off, too! Let's grab our cameras and GO!
Source:
https://pokemongolive.com/post/go-snapshot-announce

Article edited on 2019-02-12 09:22:07 by Sunain
Feb 11
The official Play! Pokémon website has announced the location for the 2019 Pokémon Europe International Championships which take place in Berlin, Germany from April 26th, 2019 until April 28th, 2019.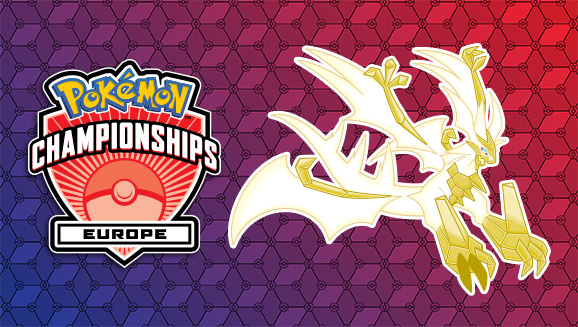 2019 Pokémon Europe International Championships
The Pokémon TCG and Video Game Europe International Championships are the third International Championships of the 2019 Championship Series season. This event is sure to be one of the largest Pokémon Championship Series tournaments, and it features exciting competitions for both Pokémon TCG and video game players. This event will also host a Pokkén Tournament Worlds Qualifier competition.
The Europe International Championships will take place at the Estrel Berlin Congress Center in Berlin, Germany, on April 26–28, 2019. It will feature high Championship Point payouts and thousands of dollars' worth of prizes, spread between the Pokémon TCG, video game, and Pokkén Tournament DX competitions.
Information on registration will be available at a later date. Space will be limited.
Event location:
Estrel Berlin Congress Center
Convention Hall II
Sonnenallee 225
12057 Berlin, Germany
For Masters Division Pokémon TCG and video game players, check-in and badge pickup will be on Thursday, April 25. The Masters Division competitions will begin Friday, April 26, and go through Sunday, April 28. Junior and Senior Division competitions will begin Saturday, April 27. Junior and Senior Division players may pick up badges on Friday.
For Senior and Masters Division Pokkén Tournament DX players, badge pickup will occur on Friday, with the competition running Saturday and Sunday.
Source:
https://www.pokemon.com/uk/play-pokemon/internationals/2019/europe/about/

Article edited on 2019-02-11 06:23:22 by Sunain