Welcome to PocketMonsters.net
PocketMonsters.net
is a fansite dedicated to all things Pokémon (ポケモン) and Pocket Monsters (ポケットモンスター). We are the premier site for news and information about all aspects of the franchise from around the world. We cover the
Anime
,
indexing the music
, the
Trading Card Game
, the
Games
, the
variety shows
, have a
large imageboard
,
forum
and much more.
Follow us on Twitter
and
Subscribe to our RSS Feed
for the latest updates!
Latest News

04 Aug
03 Aug
30 Jul
27 Jul
23 Jul
20 Jul
Upcoming Episodes
New titles are revealed in various publications such as: TV guides, childrens' magazines, anime magazines, promotional posters and videos, official websites and official television programs. Titles and their translations are added to our
episode guide
and the chart below when the titles are revealed.
Aug 04
The Legendary duo of Kyogre and Groudon has dominated the land and seas since originally appearing in the Hoenn region. Now you can get one of them via a code from your local participating store. Pokémon Ultra Sun and Pokémon Sun players can get Kyogre, and Pokémon Ultra Moon and Pokémon Moon players can get Groudon.

United States: GameStop - August 3rd to 26th, 2018
Canada: EB Games
UK: GAME
Ireland: GameStop
Germany: GameStop
Spain: GAME
France: Micromania
Italy: GameStop
Australia: EB Games
Mexico: Best Buy
Chile: weplay store
Guatemala: El Duende
Colombia: Alkosto HiperAhorro
Panama: Felix Estigames
Costa Rica: Vertigo
Peru: Phantom
Honduras: Game Station
How to Get Kyogre or Groudon
1. Open your Pokémon Sun, Pokémon Moon, Pokémon Ultra Sun, or Pokémon Ultra Moon game.
2. Select Mystery Gift on the main menu.
3. Select Receive Gift.
4. Select Get with Code/Password, then Yes, then Yes again to connect to the internet.
5. Enter your code.
6. Watch as the Legendary Pokémon arrives in your game!
7. Speak to the delivery person in any Pokémon Center to receive your Legendary Pokémon.
8. Be sure to save your game.
Kyogre and Groudon - Level / Moves: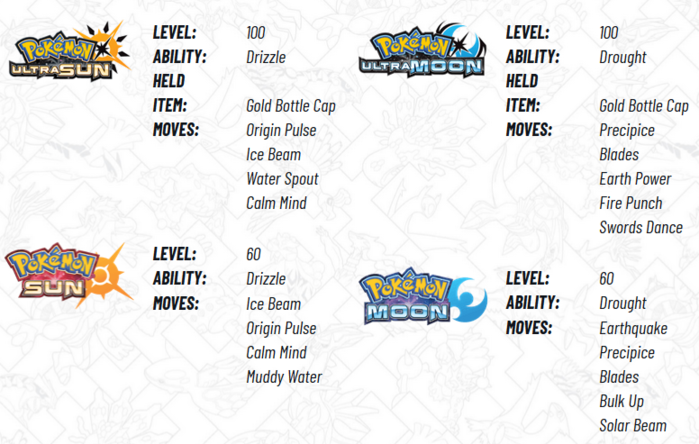 YouTube Trailer - Kyogre and Groudon await you in August!
Source:
https://www.youtube.com/watch?v=lGWEd15g44U
Aug 03
Pikachu Outbreak! Science is Amazing! will take place from Friday, August 10th, 2018 to Thursday, August 16th, 2018, the Minato Mirai area of Yokohama, baring any extreme weather issues.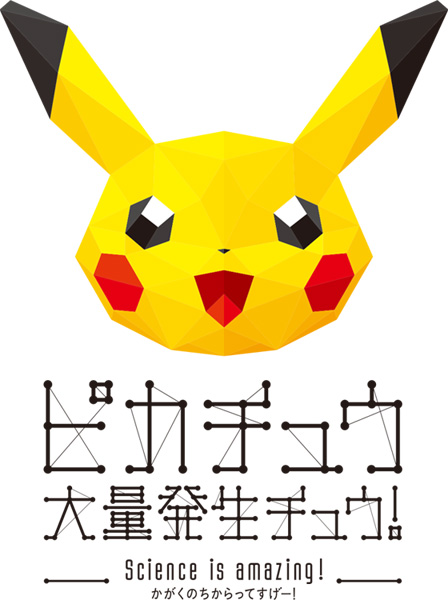 The Details of Pokemon Synchronicity at Pikachu Outbreak Revealed!
From Friday, August 10 to Thursday, August 16, the Minato Mirai area of Yokohama will once again host "Pikachu Outbreak! Science is Amazing!" Here, we present the details of Pokémon Synchronicity.
Pokémon Synchronicity is a 30-minute show featuring a ship parade with a lot of Pikachu against a background of images floating on the sea, all of which can be viewed from the lawn space at Nippon Maru Memorial Park.
Event Overview
Date: Friday, August 10 to Thursday, August 16, 2018
Time: (Opens at 6:30 PM) First Show: 8:00 PM
Venues: Minato Mirai port area (near the Nippon Maru Memorial Park lawn space)
Admission free.
How to Watch
Viewing area is composed of three sections. Numbered admission tickets will be issued for certain section of the viewing area at Pokémon Synchronicity. Distribution Time: 11:00 AM same day (as the day of the viewing).
While there are viewing areas that do not require tickets (with capacity for roughly 1,000 viewers), visitors may not be admitted if the area reaches capacity, even if they lined up in time for the opening.
On the Issuing of Admission Tickets
Distribution Time: 11:00 AM same day (as the day of the viewing)
 *Tickets valid for the same day only will be issued every day within the event period. These tickets may not be used on a different day.
Distribution Place: Pokémon Synchronicity admission gate (JR Sakuragicho Station side of Nippon Maru Memorial Park)
Quantities are limited and are only available while supplies last.
Only one ticket will be issued per visitor.
 *About 1,000 tickets will be issued each day.
 *Tickets are not required for preschool aged children.
Tickets cannot be reissued regardless of circumstances, such as loss, destruction by fire, or damage. Be sure to stow it a safe place.
Please refrain from reselling tickets.
*Tickets will not be issued for the Boat Greeting in the afternoon.
・Shows may be cancelled or suspended out of concern for viewer safety in the event of stormy weather (based on the host's standards) such as extreme heat, gales, rainfall, or lightning, as well as natural disasters such as earthquakes or typhoons. Cancellations will be announced on official Pokémon Twitter.
・The day of the event is expected to be very hot. Be sure to pay attention to your physical condition and take measures against heatstroke, such as bringing your own fans and towels and hydrating frequently when participating in the event.
・All viewing areas in Nippon Memorial Park use a capacity system. Visitors may not be admitted if capacity is reached. ・Use the special tarps distributed at the entrance in the viewing area.
・While photography is permitted, please refrain from using tripods or other devices that may create a nuissance for other viewers.
・Glowsticks will be used during the performance. Please be sure to return these glowsticks when leaving.
・Members of the media and photography staff from the organizer will be present on the day of the event and may photograph or record viewers. Please be aware that this footage, still images or video may be publicly published.
Source:
https://www.pokemon.co.jp/info/2018/08/180803_e01.html

Article edited on 2018-08-03 06:24:23 by Sunain
Jul 30
The Pokémon Company International has announced that the dubbed version of Movie 21 is called
Pokémon the Movie: The Power of Us
and it will be coming to theaters worldwide in late 2018. It will be in US theaters on November 24th, 2018, November 26th, 2018, November 28th, 2018 and December 1st, 2018.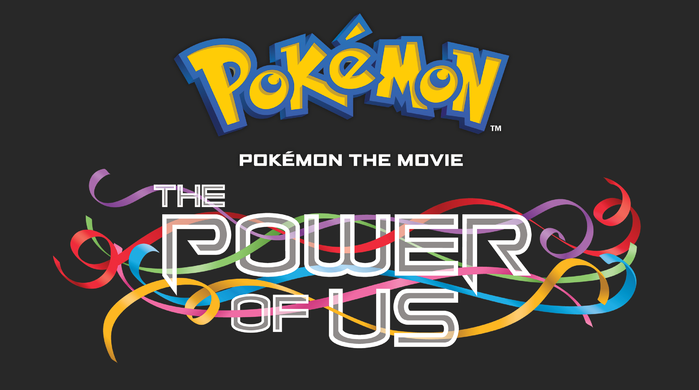 The Pokémon Company International and Fathom Events Partner to Bring Pokémon the Movie: The Power of Us to Cinemas in Select Locations Worldwide
First Trailer Unveiled for the New Animated Pokémon Movie, Coming to Theatres as a Limited Release Later This Year
Today, The Pokémon Company International announced that it is once again partnering with Fathom Events to bring a new animated film, Pokémon the Movie: The Power of Us, to select cinemas in multiple territories as a limited theatrical release. The agreement with Fathom Events, the recognized leader in event cinema distribution, follows a successful cinema event collaboration last year that showcased Pokémon the Movie: I Choose You! and garnered strong attendance worldwide.
Based on the globally popular Pokémon brand, Pokémon the Movie: The Power of Us follows Ash and Pikachu as they join forces with a diverse new cast of characters to rescue a seaside town from a series of threatening incidents. Filled with unique challenges and thrilling Pokémon battles, and set during a festival celebrating the Legendary Pokémon Lugia, this heartwarming film illustrates the value of teamwork and putting aside each other's differences.
"Pokémon the Movie: The Power of Us gives fans and families an opportunity to come together in witnessing new plotlines, characters, and settings unfold in the Pokémon world," said J.C. Smith, senior director of consumer marketing at The Pokémon Company International. "We can't wait to bring the magic of Pokémon to life on the big screen again with Fathom Events' expertise in event cinema."
The highly anticipated Pokémon the Movie: The Power of Us will be shown in movie theatres in select markets. More information on the cinema events, including participating movie theatres, screening dates, and ticketing, will be available soon. Since debuting as Pokémon the Movie: Everyone's Story in Japan, where the Pokémon franchise originated, the movie has already received widespread viewership.
"We are excited to work with The Pokémon Company International on their latest entry in animation by debuting Pokémon the Movie: The Power of Us outside of Japan," said Ray Nutt, CEO of Fathom Events. "We look forward to delivering another high-quality Pokémon experience that will delight fans nationwide and abroad."
Pokémon the Movie: The Power of Us Poster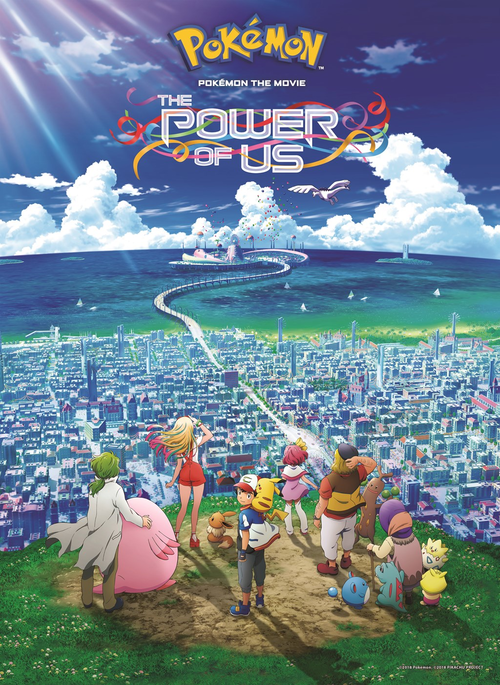 YouTube Clip - Pokémon the Movie: The Power of Us Teaser Trailer
Source:
https://www.youtube.com/watch?v=DIadDB5tfTs

Article edited on 2018-07-30 11:11:53 by Sunain
Jul 27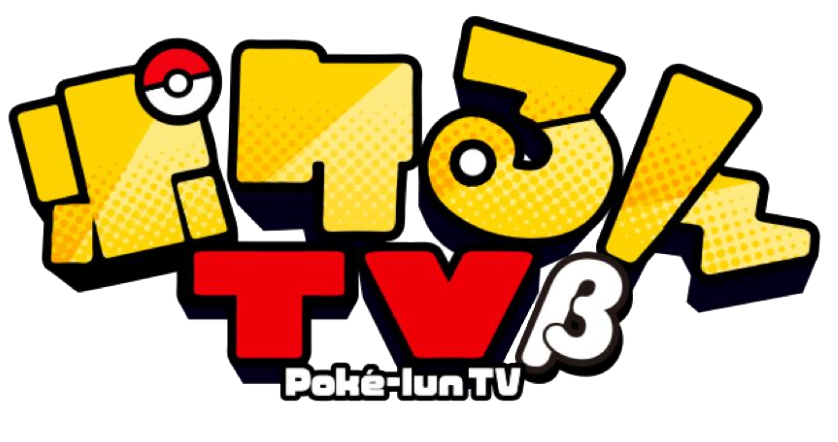 The Pokémon Company and UUUM announced today that they are collaborating together to work on a new YouTube Channel called
Poké-lun TV Beta (ポケるんTV β)
. The channel will create Pokémon videos targeted at children.
The channels hosts are:
Moe-chan (も えちゃん)
,
Takkun (たっくん)
and
Hono-chan (ほのちゃん)
.
Source:
https://www.pokemon.co.jp/corporate/PostImages/8769874e9f3bee62896519e6de78f7082640cd40.pdf

Article edited on 2018-07-27 07:21:25 by Sunain
Jul 23
Niantic has announced that Pokémon which are traded in Pokémon GO have a chance to become sparkly Lucky Pokémon.
Lucky Pokémon Are Ready for a New Adventure!
Trainers, Professor Willow has made an important new discovery about Pokémon! His findings suggest that Pokémon can take on a new trait when they are traded. The trait's origin is a mystery, and you can experience it soon in Pokémon GO!
According to his research, there is a chance that Pokémon, when traded, can become sparkly Lucky Pokémon. It seems that Lucky Pokémon require less Stardust to power up, which means they can reach a higher CP much faster than other Pokémon. Plus, a Lucky Pokémon can be detected by the Pokédex, so you can keep track of them!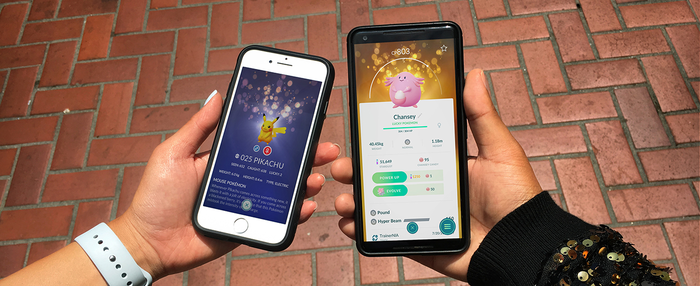 The longer the Pokémon spends inside a Trainer's Pokémon storage, the higher the chance of them becoming Lucky Pokémon when they are traded. Whether or not being in storage causes Pokémon to become Lucky Pokémon remains a mystery, but be sure to stay posted for more results from the professor's research.
With the discovery of Lucky Pokémon, Gifts also can include special new surprises. Trainers who send Gifts to friends will now receive XP for doing so and Gifts also have a chance of containing Stardust!
It's time to begin a new journey with Lucky Pokémon! Share a photo of your new find with #LuckyPokemon on your preferred social media channels. Stay safe, and happy exploring!
Source:
https://pokemongolive.com/en/post/luckypokemon/

Article edited on 2018-07-27 07:00:46 by Sunain
Jul 20
The
Let's Go! Cup (Let's Go! ピカチュウ・Let's Go! イーブイ)
online competition for
Pokémon Ultra Sun and Ultra Moon
has been announced on the Pokémon Global Link website. Full details are listed below and on our
7th Generation Online Competitions
page which will be updated as new tournaments are announced.
Let's Go! Cup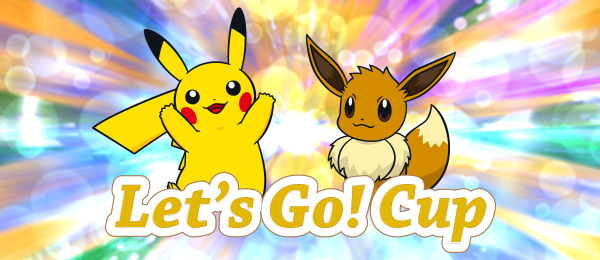 Information
Region: International
Registration Period: Thursday, July 26th, 2018 at 00:00 UTC, through Thursday, August 2nd, 2018, at 23:59 UTC
Tournament Period: Friday, August 3rd, 2018 at 00:00 UTC, through Sunday, August 5th, 2018, at 23:59 UTC
Ranking Results Announcement: August 2018
Player divisions: This competition does not have age divisions.
Compatible Games: Pokémon Ultra Sun and Pokémon Ultra Moon
Battle Type: Single Battle
Banned Pokémon: Eligible Pokémon are limited to National Pokédex No. 25 and No. 133.
Entry Gift: Qualified participants will receive a mobile-sized wallpaper featuring the Pokémon that was selected to battle the most times during the competition. To qualify, players must complete at least one battle.
Description
The two stars of Pokémon: Let's Go, Pikachu! and Pokémon: Let's Go, Eevee! are getting together this summer for a fun Online Competition. In the Let's Go! Cup, only these two famous Pokémon will be eligible to participate. Choose which Pokémon you want and head into battle to reach the top of the leaderboards!
Competition Rules
• Pokémon brought in via Poké Transporter are permitted.
• Items are permitted.
• Register one of your Pokémon to your Battle Team.
• All Pokémon in this competition will automatically become Lv. 50 for the duration of each match.
• A 5-minute time limit for each player will automatically be enforced in-game, beginning at the start of each battle. When a player's time limit expires, that player will lose the game.
• At the beginning of each turn, players have 30 seconds to select a move. If a player has not made their selections at the end of this period, the game will automatically make a selection for the player.
• Players may battle up to 10 games per day of the competition. Any unplayed games will carry over to the following day. A new day begins at 00:00 UTC.
Sources:
https://3ds.pokemon-gl.com/information/9523f814-8dd2-49d4-96db-439f588ddaf0

Article edited on 2018-08-05 09:14:36 by Sunain