Welcome to PocketMonsters.net
PocketMonsters.net
is a fansite dedicated to all things Pokémon (ポケモン) and Pocket Monsters (ポケットモンスター). We are the premier site for news and information about all aspects of the franchise from around the world. We cover the
Anime
,
indexing the music
, the
Trading Card Game
, the
Games
, the
variety shows
, have a
large imageboard
,
forum
and much more.
Follow us on Twitter
and
Subscribe to our RSS Feed
for the latest updates!
Upcoming Episodes
New titles are revealed in various publications such as: TV guides, childrens' magazines, anime magazines, promotional posters and videos, official websites and official television programs. Titles and their translations are added to our
episode guide
and the chart below when the titles are revealed.
Nov 29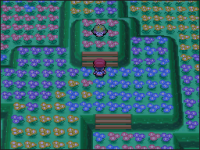 The official Japanese site has revealed that Shaymin will be given away next year over Wi-Fi Connection as a Mystery Gift. Users will be able to get Shaymin by using Okido's Letter which gives you access to the Flower Paradise. The event will be online sometime next year.
Pokemon Centers in Japan will be also giving out an Eevee to help promote the launch of new Eevee evolution merchandise. People can bring their copy of Pokémon Diamond, Pearl or Platinum from December 6th to January 12th to one of the Japanese Pokemon Centers to receive their Eevee.
Sources:
http://www.pokemon.co.jp/special/platinum/hotnews/17.html
&
http://www.pokemon.co.jp/info/pokemon/p081128_01.html

Article edited on 2008-11-29 03:49:26 by Sunain
Nov 27

Yahoo Japan has announced the 2008 Search Word Ranking from January 1st, 2008 to October 31st, 2008. Pokemon's popularity doesn't seem to be declining in Japan as it placed high in most the search term categories. Below is a list of categories with the rank that the Pokemon related searches placed.
| | | |
| --- | --- | --- |
| Rank | Search Keyword | Search Category |
| 1st | Shoko Nakagawa (Shoko-tan) / 中川翔子 (しょこたん) | Female Celebrities / 著名人ランキング女性編 |
| 2nd | Shoko Nakagawa (Shoko-tan) / 中川翔子 (しょこたん) | Overall Ranking of Celebrities / 著名人ランキング総合 |
| 1st | Pocket Monsters / ポケットモンスター | Anime Game Rankings / アニメ・ゲームランキング |
Source:
http://searchranking.yahoo.co.jp/ranking2008/general.html

Article edited on 2008-11-27 09:45:44 by Sunain
Nov 23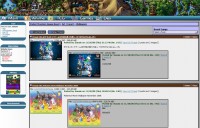 The popular
#PocketMonsters Imageboard
has returned and is better than ever. For those that aren't familiar with an Imageboard, it is a type of Internet forum that revolves around the posting of images. You can submit or view Pokemon related pictures, photos, and fan art as well as post comments about them.
As part of this new board, we decided to start off the archive fresh. You can reupload old Images if you wish as they will be permanently archived on this new Imageboard. Please acquaint yourselves with the
Imageboard's Rules
as they will be enforced. Eventually, we may add more features to the board. A link to the Imageboard has been added to the Main Menu for future reference. We hope you enjoy the
new Imageboard.
imageboard.pocketmonsters.net
should now point to the new Imageboard, so your bookmarks won't have to be updated.

Article edited on 2008-11-23 04:06:02 by Sunain
Nov 22
The latest episode of Pokémon Sunday,
Diamond & Pearl Returns 'Hikari! Contest Debut!!' / Following Handsome Yamamoto for One Day! / Pokémon Game Arena 'The Children's First Platinum Battle Against Group Member Yamamoto!' (ダイヤモンド&パールリターンズ 「ヒカリ!コンテストデビュー!!」 ハンサム山本の一日を追え!ポケモンゲームアリーナ「山本隊員が子どもたちとの初プラチナバトル!」)
, aired on Sunday in Japan.
This weeks Pokémon Revival episode is ヒカリ!コンテストデビュー!! (Hikari! Contest Debut!!) which is the eleventh episode of Diamond & Pearl.
Satoshi and Hikari decide to have a practice battle outside before the Pokemon Contest. Aipom shows that it wants to be in contests and Satoshi decides that they should enter. The Pokemon Contest begins, but who will be victorious?
In this weeks episode, the Pokemon Sunday gang follow Handsome Yamamoto around for a Day. He carries out a few tasks to varying degrees of success. In one task, he gets a foot massage and attempts to read a book at the same time. In another task, he attempts to bench press 60KG. We probably have not seen the end of Handsome Yamamoto!
Pictures
from this episode have been added to the
episode guide
. You can can also
comment and discuss
this episode. Also be sure to rate this and other episodes in the
episode guide
.
Nov 22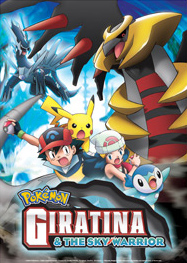 The newest Pokemon movie is on its way, and it's a mix of action, adventure, and drama that will definitely grow on you!
It won't be long until new Pokemon are added to the family, and true to form, there's a movie coming -- Pokemon: Giratina and the Sky Warrior -- that explains their roles in the Pokemon universe. We're not giving away secrets, either (not yet), but you will definitely be amazed by the powerful battles, the touching friendships that are forged, and the devastating destruction that threatens to turn the world upside down -- and inside out in this movie! Whoops! See, we went and said too much already! Make sure to bring plenty of popcorn for the premiere of Giratina and the Sky Warrior, coming soon to DVD!
The current voice actor for Ash Ketchum in the English dub, Sarah Natochenny, posted her voice over resume on her website earlier this month with the title for the upcoming 11th Pokémon Movie. The title has now been confirmed and the English dub title will be "Giratina and the Sky Warrior". Her website indicates that the movie would be coming out in 2009, but by the tone of Pokemon.com's news release, we
may
see it sometime in December to coincide with the Japanese DVD release and the Christmas gift rush.
Giratina and the Sky's Bouquet: Shaymin (Japanese:ギラティナと氷空の花束 シェイミ ) is the second Pokémon movie of the Diamond & Pearl movie trilogy, and the eleventh Pokémon movie overall. It premiered in Japan on July 19, 2008 and the Japanese DVD will be released on December 19th.
Source:
http://www.pokemon.com/#news_/XML/news_325.xml
Article edited on 2008-11-22 01:08:14 by Sunain
Nov 21
Pokémon Organized Play announces how 2009 Pokémon TCG World Championships invitations will be distributed.
The 2009 Pokémon TCG World Championships is THE Premier Event of the year! Only players who receive invitations via their National Championships, Premier Rating, or performance at the 2008 World Championships are permitted to play in this event. Additionally, top-ranked players in the Last Chance Qualifier will receive an invitation to participate in the 2009 World Championships.
The event will host top players from around the world competing for the title of Pokémon TCG World Champion and for scholarships worth up to $7,500.
Pokémon Organized Play will be awarding invitations to the 2009 Pokémon TCG World Championships in a variety of ways. The list below breaks down how invitations will be distributed over the course of the 2008–2009 tournament season.
All other qualifying players from the 2009 National Championships in each age division, as defined in the table above
Players qualifying through the 2008–2009 Premier Ratings
Players qualifying through the 2009 Last Chance Qualifier
Players outside of North America are encouraged to ask their local Organized Play provider if they will be sponsoring Travel Awards for qualified players who did not receive a POP-sponsored Travel Award.
Source:
http://go-pokemon.com/op/news/articles/48.html
| | | | |
| --- | --- | --- | --- |
| World Championships | Junior | Senior | Masters |
| 2008 World Champions | 2 | 5 | 5 |
|   |   |   |   |
| 2009 National Championships | Junior | Senior | Masters |
| Argentina | 2 | 2 | 2 |
| Australia | 2 | 2 | 2 |
| Austria | 2 | 2 | 2 |
| Belgium/Luxembourg | 2 | 2 | 2 |
| Brazil | 2 | 2 | 2 |
| Canada | 4 | 4 | 4 |
| Czech Republic | 2 | 2 | 2 |
| Denmark | 4 | 4 | 4 |
| Finland | 3 | 3 | 3 |
| France | 4 | 4 | 4 |
| Germany | 4 | 4 | 4 |
| Hong Kong | 1 | 1 | 1 |
| Italy | 4 | 4 | 4 |
| Japan | TBA | TBA | TBA |
| Malaysia | 2 | 2 | 2 |
| Malta | 1 | 1 | 1 |
| | | | |
| --- | --- | --- | --- |
| Mexico | 4 | 4 | 4 |
| Netherlands | 4 | 4 | 4 |
| New Zealand | 2 | 2 | 2 |
| Norway | 4 | 4 | 4 |
| Portugal | 2 | 2 | 2 |
| Slovenia | 2 | 2 | 2 |
| Spain | 2 | 2 | 2 |
| Sweden | 1 | 1 | 1 |
| Switzerland | 2 | 2 | 2 |
| United Kingdom | 4 | 4 | 4 |
| United States | 8 | 8 | 8 |
|   |   |   |   |
| Premier Ratings | Junior | Senior | Masters |
| Ratings APAC Zone | 4 | 4 | 4 |
| Ratings LA Zone | 2 | 2 | 2 |
| Ratings NA Zone | 25 | 25 | 25 |
| Ratings EU Zone | 20 | 20 | 20 |
|   |   |   |   |
| Last Chance Qualifier | Junior | Senior | Masters |
| Guaranteed Invites | 4 | 4 | 4 |

Article edited on 2008-11-21 09:01:47 by Sunain