Pocket Monsters Anime Changing Date and Time to Sunday's at 6PM on TV Tokyo
The official Pocket Monsters Sun and Moon anime website has announced that the Pocket Monsters anime will be changing its weekly airing date and time to Sunday's at 6PM on TV Tokyo from its current time slot, Thursday's at 6:55PM JST. The last episode to air during the current time slot will be the episode on September 13th, 2018, after-which the series will have a two week break before it transitions to its new time on October 7th, 2018. This new time shift happens just over
2 years since the move to the 6:55PM slot
.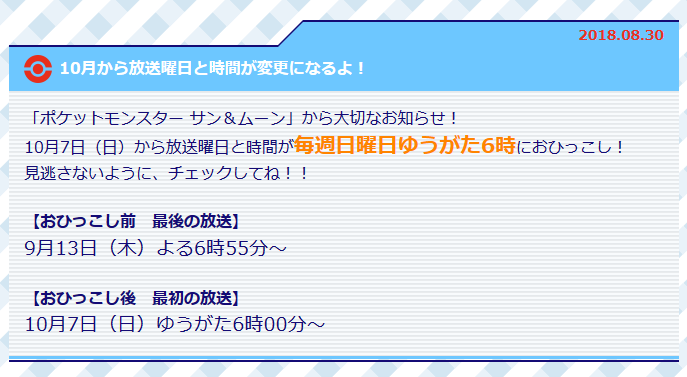 "An important message from Pocket Monsters Sun & Moon! Starting Sunday, October 7th, 2018, the show will begin airing on Sunday's at 6:00pm! Be sure you don't forget!!"
Source:
http://www.tv-tokyo.co.jp/anime/pokemon_sunmoon/news/index.html#211518
Hirokazu Oshida - Head of TV-Tokyo's animation division Quote:
The head of TV-Tokyo's animation division,
Hirokazu Oshida (押田裕一)
was quoted by Yahoo News Japan discussing the change in the shows air time.
"Starting in the fall of 2018, TV Tokyo will create a new anime programming block on Sunday evenings from 5:30pm to 6:30pm which is targeted at families, particularly children. As people's lives and viewing habits change, we want to change our focus towards the concept of "spending your days off relaxing with your family." Starting with those two programs (Boruto Naruto Next Generations and Pocket Monsters Sun and Moon) and continuing on with shows like "Moya-Moya Summers 2", "Emergency SOS! The Great Plan to Drain All the Water from the Pond", and "Ikegami's Sunday Primetime World", we hope the whole family will come together to enjoy TV Tokyo's programming. We're going to continue striving to make sure everyone continues to love these shows for a long time. Please look forward to both these programs."
「2018年秋、テレビ東京は日曜日の17時30分~18時30分を子どもたちを中心とした家族に向けて、アニメ番組を編成いたします。生活環境、視聴環境が変化する中、『休日ゆっくり、家族一緒で』をコンセプトに新たなるスタートを切りたいと考えています。両番組から始まり『モヤモヤさまぁ~ず2』(日曜後6・30)『緊急SOS!池の水ぜんぶ抜く大作戦』(日曜後7・54、月1回)『日曜ゴールデンの池上ワールド』(日曜後7・54)と休日の家族団らんで過ごす時間を、テレビ東京で楽しんでいただければと思います。今後も長く皆さまに愛される番組になるよう、全力を挙げて参ります。どうぞ、両番組の活躍にご期待ください。」
Source:
https://headlines.yahoo.co.jp/hl?a=20180830-00000116-spnannex-ent