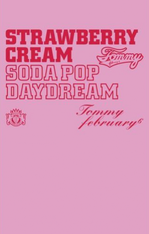 Strawberry Cream Soda Pop Daydream (Blu-spec CD+DVD)
Artist(s):
Tommy february⁶
Tommy february⁶
Catalog #
DFCL-20001
Release Date
2009-02-25
Discs/Tracks
18 Tracks on 1 CD
Price/MRSP
9000Yen
Run Time
01:17:18
Average Rating
Description
Brilliant Green's Kawase Tomoko is on the solo path again as her alter ego Tommy february⁶. Strawberry Cream Soda Pop "Daydream" offers a selection of 18 of her solo act favorites. Among these are Everyday At The Bus Stop, Bloomin'!, and Lonely in Gorgeous. In addition, fans can also look forward to the previously unreleased song Strawberry Cream Soda Pop.

First Press Limited Edition comes in Blu-spec CD format,which promises enhanced audio quality using a standard CD player with:

- DVD featuring music video and making of footage
- "Daydream" Binder
- "Daydream" B5-sized 36-page Photo Booklet
- "Daydream" 24-page Lyrics Booklet
- "Daydream" B5-sized Clear Files (Set of 10)

Note: A Blu-spec CD can be played in all CD players.
Pictures

Track List
Disc
Track
Title
Length
1
1

T.O.M.M.Y

0:48
1
2

EVERYDAY AT THE BUS STOP

3:47
1
3

♡KISS♡ ONE MORE TIME

4:08
1
4

Bloomin'!

3:36
1
5

je t'aime ★ je t'aime

4:55
1
6

Love is forever

4:48
1
7

MaGic in youR Eyes

5:45
1
8

L・O・V・E・L・Y ~夢見るLOVELY BOY~

[Lyrics]

L. O. V. E. L. Y ~Yumemiru LOVELY BOY~

L. O. V. E. L. Y ~Dreaming of LOVELY BOY~

3:48
1
9

♥Lonely in Gorgeous♥

4:02
1
10

I still love you boy

5:19
1
11

Can't take my eyes off of you

3:47
1
12

ふたりのシーサイド

Futari no Seaside

5:01
1
13

トミーフェブラッテ、マカロン。

Tommy February, Macaron.

4:49
1
14

Is this feeling love?

4:41
1
15

I'LL BE YOUR ANGEL

4:44
1
16

★CANDY POP IN LOVE★

4:19
1
17

SwEEt dREAM

4:12
1
18

○Strawberry●Cream○Soda●Pop○

4:49