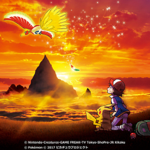 オラシオンのテーマ ~共に歩こう~ (iTunes / mora / Amazon)
Also known as:
| | |
| --- | --- |
| | Oración no Theme ~domo ni arukou~ |
| | The Oración Theme: Let's Walk Together |
Artist(s):
林明日香
Asuca Hayashi
Catalog #
id1249945777
Release Date
2017-07-15
Discs/Tracks
4 Tracks on 0 CD
Price/MRSP
¥800
Run Time
00:19:26
Average Rating
Description
This song is based on "Oración" from "Pocket Monsters Diamond & Pearl the Movie: Dialga VS Palkia VS Darkrai", and is composed by Shinji Miyazaki and Akimitsu Honma, while Futoshi (from Aqua Timez) provides the lyrics and the vocals are sung by Asuca Hayashi, who performed "Chiisaki Mono", the theme song to "Pocket Monsters Advanced Generation the Movie: The Seven-Day Wishing Star Jirachi".

It retains the majesty and emotion of "Oración", while being redone to the motif of this year's movie's story about Satoshi and Pikachu becoming true partners, as well as the themes of adventure and the bonds you have with your friends.

"The Oración Theme: Let's Walk Together" assembles various elements from the entire history of the 20 Pokémon movies, then reconstructs them and gives birth to them anew! It truly is the kind of ending theme song suited for the 20th anniversary Pokémon movie!
Track List
Disc
Track
Title
Length
1
1

オラシオンのテーマ ~共に歩こう~

[Lyrics]

Oración no Theme ~domo ni arukou~

The Oración Theme: Let's Walk Together

5:14
1
2

小さきもの (Single Mix)

[Lyrics]

Chiisaki Mono (Single Mix)

A Small Thing (Single Mix)

5:33
1
3

オラシオン 宮崎 慎二

Oración Shinji Miyazaki

Oración Shinji Miyazaki

3:25
1
4

オラシオンのテーマ ~共に歩こう~(Off Vocal Ver.)

Oración no Theme ~domo ni arukou~ (Off Vocal Ver.)

The Oración Theme: Let's Walk Together (Off Vocal Ver.)

5:14