Disc Summary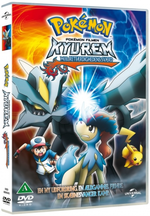 Pokémon Filmen - Kyurem mod Retfærdighedens Sværd
Also known as:
| | |
| --- | --- |
| | Pokémon The Movie - Kyurem vs. The Sword of Justice |
Audio Tracks:
English
Swedish
Finnish
Norwegian
Danish

Publisher:
Universal Pictures
Catalog #:
EAN: 5050582942439
Release Date:
2013-08-21
Aspect Ratio:
16:9
Region Code:
Video Format:
PAL
Storage Medium:
DVD9
Closed captions?
Yes
Rental Only?:
No
Average Rating
Description
En ny udfordring. En ældgammel fjende. En skæbnesvanger kamp.

På en togrejse opdager Ash og hans venner en såret Pokémon, som de ikke har set før. De planlægger en redningsaktion, men pludselig bliver de angrebet af den legendariske Kyurem! De lykkes Ash og de andre at komme den ukendte Pokémon til undsætning og høre hans historie...

Den sagnomspundne Pokémon Keldeo er på en mission for at redde sine venner - Cobalion, Terrakion og Virizion, Retfærdighedens Sværd - fra Kyurems iskolde greb. Men Kyurem har andre planer, og når han forvandler sig til Black Kyurem eller White Kyurem for at få mere styrke, ser tingende ikke så godt ud!

Er Keldeo stærk nok til at modstå trudslen?
Episodes

Kyurem vs. The Sword of Justice キュレムVS聖剣士ケルディオ Kyurem VS the Sacred Swordsman Keldeo
Kyurem VS the Sacred Swordsman Keldeo