Disc Summary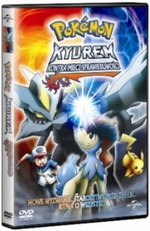 Pokémon: Kyurem Kontra Miecz Sprawiedliwości
Also known as:
| | |
| --- | --- |
| | Pokémon: Kyurem VS the Sacred Swordsman Keldeo |
Audio Tracks:
Polish

Publisher:
Tim fil Studio / Universal
Catalog #:
Release Date:
2013-08-22
Aspect Ratio:
16:9
Region Code:
Video Format:
PAL
Storage Medium:
DVD5
Closed captions?
No
Rental Only?:
No
Average Rating
Description
W trakcie podróży pociągiem Ash, wraz z przyjaciółmi, spotyka rannego Pokémona, którego nigdy wcześniej nie widział. Bez wahania postanawia mu pomóc, jednak pociąg zostaje zaatakowany przez legendarnego Kyurem! Na szczęście Ash i inni są w stanie uciec i ratują nowo poznanego Pokémona, a następnie poznają jego historię…

Nowy znajomy to mityczny Keldeo, który wyruszył w podróż, żeby uratować swoich przyjaciół – Cobaliona, Terrakiona i Viriziona – z lodowatych szponów Kyurema. Jego przeciwnik nie chce do tego dopuścić. Aby ich powstrzymać, przekształca się albo w Czarnego Kyurema, albo w Białego Kyurema, dzięki czemu zyskuje dodatkową siłę!

Czy Keldeo odnajdzie w sobie odwagę i powstrzyma zagrożenie?
Episodes

Kyurem vs. The Sword of Justice キュレムVS聖剣士ケルディオ Kyurem VS the Sacred Swordsman Keldeo
Kyurem VS the Sacred Swordsman Keldeo