Disc Summary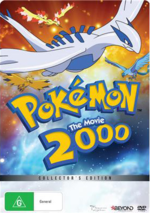 Pokémon The Movie 2000 - Collector's Edition
Audio Tracks:
English

Publisher:
Beyond Home Entertainment
Catalog #:
BHE6418
Release Date:
2015-12-02
Aspect Ratio:
16:9
Region Code:
Video Format:
NTSC
Storage Medium:
DVD9
Closed captions?
No
Rental Only?:
No
Average Rating
Description
Just one person can make a difference...
In the Orange Islands far south of Kanto, a Trainer named Lawrence is on a sinister quest: catching the Legendary Pokémon Articuno, Zapdos, and Moltres in an attempt to awaken Lugia, guardian of the sea! When Ash and friends arrive, the islanders ask him to gather three elemental orbs from different islands. As the weather across the world goes out of control, it becomes clear that the capture of the Legendary trio has thrown the environment out of balance! With Lugia's help, can Ash find the orbs, restore the balance, and be the "chosen one" that everyone turns to?
Episodes

The Explosive Birth of the Mythical Pokémon Lugia

Pokémon the Movie 2000 - The Power of One

幻のポケモン ルギア爆誕