Disc Summary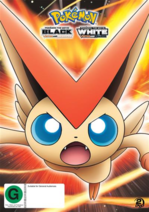 Pokémon: White - Victini and Zekrom / Black - Victini and Reshiram
Audio Tracks:
English

Publisher:
Beyond Home Entertainment
Catalog #:
BHE7432
Release Date:
2016-11-16
Aspect Ratio:
16:9
Region Code:
Video Format:
PAL
Storage Medium:
DVD9
Closed captions?
No
Rental Only?:
No
Average Rating
Description
A Hero Must Choose: The Power of Ideals…or the Courage of Truth?

When Ash wins the annual battle competition in Eindoak Town with the help of the Mythical Pokémon Victini, he and his friends Iris and Cilan begin an exciting adventure that could follow two different paths—but you can follow both of them! In Pokémon the Movie: Black—Victini and Reshiram and Pokémon the Movie: White—Victini and Zekrom, Ash must make different choices if he is to earn the help of Reshiram—or Zekrom —to rescue Victini from the clutches of the misguided Damon and save Eindoak Town from disaster! It's twice the Pokémon adventure!

Limited Edition 3D Packaging Exclusive To JB Hi-Fi!
Episodes

Pokémon The Movie White Victini and Zekrom

Pokémon The Movie Black Victini and Reshiramビクティニと白き英雄レシラム

ビクティニと黒き英雄ゼクロムVictini and the Light Hero - Reshiram

Victini and the Dark Hero - Zekrom