Disc Summary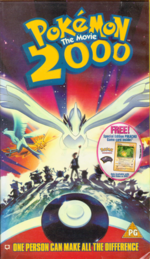 Pokémon: The Movie 2000
Audio Tracks:
English

Publisher:
Warner Home Video UK Limited
Catalog #:
S018620
Release Date:
2001-03-19
Aspect Ratio:
4:3
Region Code:
Video Format:
PAL
Storage Medium:
Closed captions?
Yes
Rental Only?:
No
Average Rating
Description
Get set for an unforgettable adventure feature all-new Pokémon! An ancient legend comes true when Pokémon Articuno, Zapdos and Moltres are disturbed after centuries of harmony. As the very forces of nature come unblanaced, life on earth depends on the unlikely teaming of the mythical Pokémon Lugia and the mysterious "chosen one" foretold in the legend. Can Ash Ketchum summon the courage to save the day? See how one person can make all the difference.

A Pikachu TCG Promo card was included in specially marked copies of this VHS.