Disc Summary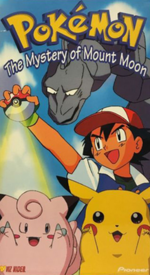 Pokémon - Vol. 02: The Mystery of Mount Moon
Audio Tracks:
English

Publisher:
Pioneer Entertainment & VIZ
Catalog #:
PIKA-0002
Release Date:
1999-03-09
Aspect Ratio:
4:3
Region Code:
Video Format:
NTSC
Storage Medium:
Closed captions?
No
Rental Only?:
No
Average Rating
Description
Exciting adventures int he world of Pokémon. Pokémon trainer Ash Ketchum continues his quest ot become the world's greatest Pokémon master. He's already caught two of the amazing creatures with the help of his very first Pokémon, the electrifying Pikachu. Together with Misty, they'll travel across the land searching far and wide for all 150 Pokémon - he's "gotta catch 'em all" to be the very best.

Their journey takes them straight to the fabled Mount moon. Legend has it that the powerful Moon Stone is hidden somewhere deep in the mountain-never seen by man. But before Ash can unlock the mystery of Mount Moon, he's got to defeat Samurai and Brock to win a Boulder Badge and foil Team Rocket's treacherous tricks. It's all in a day's work for a Pokémon master in the making!

Catch all the fun and excitement for the greatest Pokémon adventures ever!