Disc Summary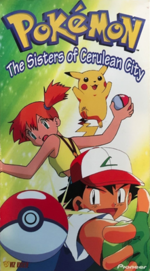 Pokémon - Vol. 03: The Sisters of Cerulean City
Audio Tracks:
English

Publisher:
Pioneer Entertainment & VIZ
Catalog #:
PIKA-0003
Release Date:
1999-03-09
Aspect Ratio:
4:3
Region Code:
Video Format:
NTSC
Storage Medium:
Closed captions?
No
Rental Only?:
No
Average Rating
Description
Can Ash Ketchum catch 'em all? You bet! Especially with friends like these:
• BROCK - with Geodude and Onix at his disposal, this Pokémon trainer really ROCKS!
• MISTY - better not make waves with this water Pokémon expert.
• PIKACHU - Ash's first Pokémon has shocking powers beyond belief. Together they help Ash as he tries to fulfill his destiny of becoming the greatest Pokémon master of all time!

The adventure continues with Ash and Pikachu facing their toughest challenges yet:
• Can they beat a rival dead set on winning 100 straight victories - no matter the cost?
• When school ends the battles are just beginning at the Pokémon Tech!
• The opponent standing in the way of Ash winning a Cascade Badge is the last person he ever expected to face!
Plus, Team Rocket follows Ash every step of the way with one objective: The kidnapping of Pikachu!