Disc Summary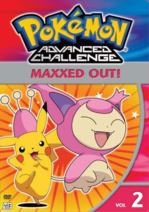 Pokémon Advanced Challenge: Maxxed Out - Volume 2
Audio Tracks:
English

Publisher:
VIZ Media
Catalog #:
782009234340
Release Date:
2005-09-06
Aspect Ratio:
4:3
Region Code:
Video Format:
NTSC
Storage Medium:
DVD5
Closed captions?
Yes
Rental Only?:
No
Average Rating
Description
Candid Camerupt
Pokémon battling becomes a family affair when Ash and his friends meet the Winstrates!

I Feel Skitty
May and Meowth go ga-ga over a pretty little Skitty!

Zigzag Zangoose
It's feud for thought as Zangoose meets Seviper in the ultimate Pokémon battle!

Maxxed Out!
Ash and his friends take on Team Rocket's Surskit snatching plan - to the max!

Pros and Con Artists
The gang arrives in Fallarbor Town for May's next Pokémon Contest. But first, will she and Beautifly fall for Team Rocket's phony Pokéblock?