Disc Summary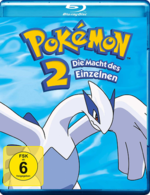 Pokémon 2 Die Macht des Einzelnen
Also known as:
| | |
| --- | --- |
| | Pokémon 2 The Power of One |
Audio Tracks:
English
German

Publisher:
Polyband/WVG
Catalog #:
36576-9
Release Date:
2019-08-30
Aspect Ratio:
16:9
Region Code:
Video Format:
NTSC
Storage Medium:
BD25
Closed captions?
No
Rental Only?:
No
Average Rating
Description
Jeder kann die Welt verändern.

Weit südlich von Kanto, im Orange-Archipel, schmiedet ein Trainer namens Lawrence üble Pläne: Er will die drei Legendären Pokémon Arktos, Zapdos und Lavados fangen, um so Lugia, den Wächter der Meere, zu erwecken! Als Ash und seine Freunde auf einer der Orange-Inseln ankommen, schicken die Inselbewohner Ash los, um drei Elementarkugeln auf verschiedenen Inseln zu finden. Als das Wetter weltweit wilde Kapriolen schlägt, wird klar, dass die Gefangenschaft der drei Legendären Pokémon der Grund für dieses Chaos ist! Kann Ash mit Lugias Hilfe die Kugeln finden, das Gleichgewicht wiederherstellen und sich als der "Auserwählte" beweisen?

"Pokémon 2 – Die Macht des Einzelnen" kam am 21. Dezember 2000 in die deutschen Kinos und hatte über 1.8 Millionen Kinozuschauer.

Nachdem die DVD jahrelang OUT-OF-PRINT und nicht im Handel erhältlich war, kommt nun der langerwartete Home-Entertainment-Release: endlich wieder neu auf DVD und erstmals in Deutschland auf Blu-ray!
Episodes

The Explosive Birth of the Mythical Pokémon Lugia

Pokémon the Movie 2000 - The Power of One

幻のポケモン ルギア爆誕

The Explosive Birth of the Mythical Pokémon Lugia