Disc Summary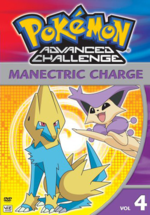 Pokémon Advanced Challenge: Manectric Charge - Volume 4
Audio Tracks:
English

Publisher:
VIZ Media
Catalog #:
782009234364
Release Date:
2005-11-29
Aspect Ratio:
4:3
Region Code:
Video Format:
NTSC
Storage Medium:
DVD5
Closed captions?
Yes
Rental Only?:
No
Average Rating
Description
Going, Going, Yawn
Burning with desire, Ash gets ready to beat Flannery, the Lavaridge Gym Leader, and win a Heat Badge!

Going for a Spinda
Team Rocket learns the hard way that grabbing some Spinda can make your head spin.

All Torkoal, No Play
Deep in the Valley of Steel, Ash and his friends help out a tough, but scared Torkoal.

Manectric Charge
Back in the Mauville City, Ash's Torkoal gets a jolt from Wattson's Manectric.

Delecatty Got Your Tongue
When Skitty loses its voice, May learns about the Doctor Abby's Pokémon Past.