Pokémon: The First Movie / Pokémon the Movie: I Choose You!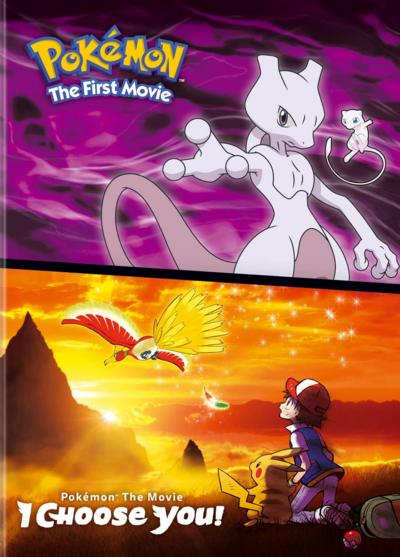 Details
Audio Tracks:
English
Publisher:
VIZ Media
Catalog #:
3000087397
Release Date:
2021-11-16
Aspect Ratio:
16:9
Region Code:

Video Format:
NTSC
Storage Medium:
DVD9
Closed Captions?:
Yes
Rental Only?:
No
Price:
$19.98 USD
Description
Pokémon the First Movie
The adventure explodes into action with the debut of Mewtwo, a bio-engineered Pokémon created from the DNA of Mew, one of the rarest of all Pokémon. After escaping from the lab where it was created, Mewtwo is determined to prove its own superiority. It lures a number of talented Trainers into a Pokémon battle like never before—and of course, Ash and his friends are happy to accept the challenge!
Ash's excitement turns to fear and anger when Mewtwo reveals its plan for domination, creating powerful clones of our heroes' Pokémon so it can even the "imbalance" between Pokémon and their Trainers. Despite determination and loyalty of a young Trainer, Mewtwo just might have to reconsider…especially when pitted against the power of the mysterious Mew!
Pokémon - The Movie: I Choose You!
When Ash Ketchum oversleeps on his 10th birthday, he ends up with a stubborn Pikachu instead of the first partner Pokémon he wanted! But after a rocky start, Ash and Pikachu become close friends and true partners—and when they catch a rare glimpse of the Legendary Pokémon Ho-Oh in flight, they make plans to seek it out together. Trainers Verity and Sorrel join Ash on his journey, and along the way, they meet the mysterious Mythical Pokémon Marshadow. When they near their goal, an arrogant Trainer named Cross stands in their way. Can Ash and Pikachu defeat him and reach Ho-Oh as they promised, or will their journey end here?
2-Disc DVD Set, 16x9 Video, English SDH Subtitles, English 2.0 Audio (Pokémon the First Movie), English 2.0 and 5.1 Audio (Pokémon The Movie - I Choose You!), Trailer
Images