ポケットモンスター 神とよばれし アルセウス【Amazon.co.jp限定】
Pocket Monsters: Arceus, the One Called a God (Amazon.co.jp Limited Edition)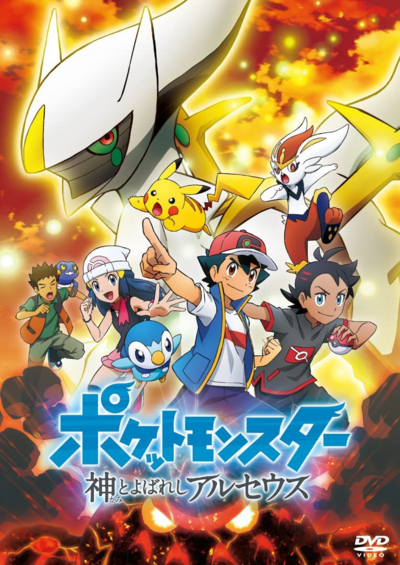 Details
Audio Tracks:
Japanese
Publisher:
Shogakukan / Sony Music Marketing inc.
Catalog #:
SSBX-2566
Release Date:
2022-08-03
Aspect Ratio:
16:9
Region Code:
Video Format:
NTSC
Storage Medium:
DVD5
Closed Captions?:
No
Rental Only?:
No
Price:
4,500円
Description
Contents
:
1. Satoshi and Go! To the Sinnoh Fes They Go!!
2. The Explosive Evolution of Heatran!!
3. A Fierce Fight on Mt. Tengan!!
4. Radiance of a Miracle! The Sinnoh Legend!
Creditless OP/ED
This DVD release is already available on Amazon Prime Video!
Satoshi and Go travel to the Sinnoh region on a research fellow mission and end up attending a festival held at the Mio Library. There, they reunite with Hikari, Pochama and Shirona. But just then, unknown to all, the remnants of the Galaxy Gang capture Heatran and begin a secret scheme. Strange phenomena start occurring all over the Sinnoh region as a result of an experiment they've started that involves a Plate said to be a part of the Mythical Pokémon Arceus' power. At the same time, the incredible power of the Plate ends up tranforming Heatran into a terrifying form. Having noticed the phenomena, Satoshi, Go and the others try to resolve the situation, guided by the Legendary Pokémon Yuxie, Agnome and Emrit. They discover the Galaxy Gang and engage in a heroic battle in an attempt to save the rampaging Heatran, but trouble breaks loose due to Heatran's never before seen form. And then the Mythical Pokémon Arceus descends.
《収録内容》
1.サトシとゴウ! シンオウフェスにゴー! !
2.ヒードラン爆進! !
3.テンガン山の大熱戦! !
4.奇跡の輝き! シンオウ伝説!
※ノンクレジットOP/ED
アマゾンプライムビデオ独占配信の完全新作が早くもDVD化!
アマゾンプライムビデオで独占配信中の完全新作「ポケットモンスター 神とよばれし アルセウス」が、早くもDVD化! ポケモンバトルで最強を目指す少年・サトシと、すべてのポケモンをゲットする夢をもつ少年・ゴウは、リサーチフェローの任務でシンオウ地方を訪れ、ミオ図書館で行われるイベントに参加する。そのイベント会場でサトシとゴウはヒカリ・ポッチャマ・シロナと再会。そんなとき、ギンガ団の残党が、密かにヒードランを捕獲し、暗躍を始める。幻のポケモン・アルセウスの力の一部といわれるプレートを使い、ギンガ団が開始した実験により、シンオウ地方全体に異変が起き始めるが…。
Images