Disc Summary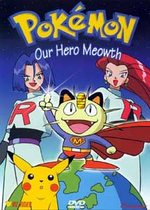 Pokémon - Vol. 19: Our Hero Meowth
Audio Tracks:
English

Publisher:
Pioneer Entertainment & VIZ
Catalog #:
013023048195
Release Date:
2000-07-18
Aspect Ratio:
4:3
Region Code:
Video Format:
NTSC
Storage Medium:
DVD5
Closed captions?
No
Rental Only?:
No
Average Rating
Description
Underwater Pokemon Battle! Misty is the star of the Cerulean Gym's underwater play, but the villians in the play are the dramatic Team Rocket! Then, neither Misty nor Jessie have ever owned princess dolls, but now the winner of an all-girl Pokemon tournament takes home the priceless Pokemon Princess Collection! Plus, a little boy knows which is the bravest, most honorable Pokemon in the world: Meowth!?



The episodes are: "Princess vs. Princess", "The Purr-fect Hero" and "The Misty Mermaid."