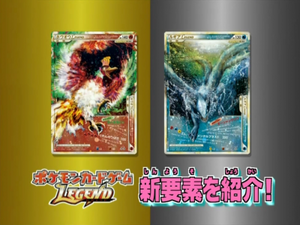 Available On:
2009-10-04 ブルーのかれいなせいかつ!? アーキド博士、ハンサム山本に続く第三の男、ついに登場!? ポケモンカードゲーム新シリーズ登場!
2009-10-04 Bulu no karei na seikatsu!? / Akido-hakase, Handsome Yamamoto ni tsuzuku daisan no otoko, tsui ni tōjō!? / Pokémon Card Game shin series tōjō!
2009-10-04 Bulu's Magnificent Life!? / Is the Third Man following Professor Akido and Handsome Yamamoto Finally Making his Entrance? / A New Pokémon Card Game Series Debuts!