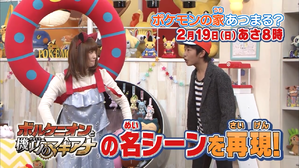 Available On:
2017-02-19 ポケモン映画の名シーンを再現、加藤清史郎君がサトシを熱演! / ベトベトンがポケんちに登場!?
2017-02-19 Pokémon eiga no mei scene wo saigen, Katō Seishirō-kun ga Satoshi wo netsuen! / Betbeton ga Pokénchi ni tōjō!?
2017-02-19 Reenacting a Famous Scene from a Pokémon Movie, with an Enthusiastic Performance of Satoshi by Seishiro Kato! / A Betbeton Appears in Pokénchi?!