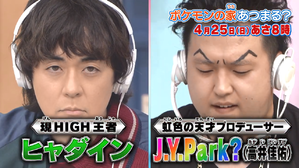 Available On:
2021-04-25 バトル大会「HIGH」!王者ヒャダインVS最強挑戦者J.Y.Park!? / しらべる君のテーマソングがついに本格始動!
2021-04-25 Battle taikai "HIGH"! Ōja Hyadain VS saikyō chōsensha J. Y. Park!? / Shiraberu-kun no thema song ga tsuini honkaku shidō!
2021-04-25 The Battle Tournament "HIGH"! Champion Hyadain VS The Ultimate Challenger J. Y. Park?! / The Production of the Shiraberu-kun Theme Song Finally Begins For Real!