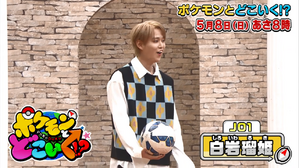 2022-05-08 JО1の白岩瑠姫くんとミルクボーイのポケモントーク / 芸人JPによる人志松本のポケる話 / サッカーボールを自由自在に操る、リアルエースバーン!!
2022-05-08 J O 1 no Shiroiwa Ruki-kun to Milkboy no Pokémon talk / Geinin JP ni yoru Hitoshi Matsumoto no Pokérubanashi / Soccer ball wo jiyūjizai ni ayatsuru, real Aceburn!
2022-05-08 Ruki Shiroiwa-kun from JO1 and Milkboy's Pokémon Talk! / Hitoshi Matsumoto Plays the Pokér, Brought to you by Comedian JP / A Real Life Aceburn Capable of Perfectly Controlling a Soccer Ball
OP/ED List
PokéDoko

Japanese Summary:
人気アイドルグループの王子様!JО1の白岩瑠姫くんとミルクボーイのポケモントークに花が咲く!射的ゲーム対決やスゴワザ披露も!▽芸人JPによる人志松本のポケる話

ポケスゴ広場で、ポケる話っ!?芸人JPのフリで、瑠姫くんとミルクボーイがピカチュウものまねをすることに・・まさかの展開に、瑠姫くん赤面(照)!サッカーボールを自由自在に操る、リアルエースバーンも登場!!


Japanese Summary Translation:
Discussions get heated when popular boyband prince Ruki Shiroiwa-kun from JO1 engages in a Pokémon talk with Milkboy! And there's a target shooting contest and Skill performances too! We also get Hitoshi Matsumoto playing the Pokér, brought to you by comedian JP

Someone's playing the Pokér at the Pokésugo Plaza?! Ruki-kun and Milkboy decide to follow comedian JP's lead and imitate Pikachu, but things take such a crazy turn Ruki-kun's face turns all red! A real life Aceburn capable of perfectly controlling a soccer ball shows up as well!!
No notes available for this episode.
Japanese Music:
Music Statistics:
Number of Assigned Tracks to the Japanese Original: 0
Number of Assigned Tracks to the English Dub: 0