Ryogo Matsumaru (松丸亮吾) is the president of RIDDLER Corporation, creator of riddles. After entering the University of Tokyo, Ryogo Matsumaru became the head of a riddle-solving production circle, and has since become a "riddle-solver" who has created a huge boom in various fields. His book series has sold over 1.55 million copies. He is also the author of many other books.
Get a Flash of Inspiration! Let's PokéRiddle!! (ひらめきゲット!Let'sポケなぞ!!)
is presented by Ryogo Matsumaru. For this segment, a word problem related to the episode that just aired before it is presented to the audience to solve.
Ryogo Matsumaru has been a guest star on many episodes of Pokénchi as well. He joined the cast of PokéDoko as a regular and gave the following comment:
Comment by Ryogo Matsumaru about PokéDoko
I'm Ryogo Matsumaru, and believe it or not, I've just become the leader of a group that's going to expose the world to the wonders of Pokémon in "PokéDoko"!
I've loved the Pokémon shows to the point of admiration ever since I was little, and I still can't believe I'm actually going be in one as a host this time. The show hasn't even started yet, and I'm still moved to tears. I will do my absolute 100%, no, 100000% best to show how amazing Pokémon is...!
I'm really looking forwards to visiting Pokénds all over the world with Abareru-kun and host Shoko Nakagawa.
These will be encounters created through Pokémon. Let's go to a world where excitement never ends!
RVR: Rising Volt Tacklers Rap - Press Release - Octoer 27th, 2023
"RVR: Rising Volt Tacklers Rap" is a song where the members of the Rising Volt Tacklers, the team the anime's protagonists Liko and Roy belong to, learn about Pokémon by rapping about them. This song, which viewers are familiar with from Chapter 1: Liko And Roy Set Off, has changed with PM2023 episode 26 with the melody remaining the same but the lyrics and line distributions changing.
The lyrics in this new RVR change depending on which character is singing, as every week sees the different members of the Rising Volt Tacklers perform a personalized rap that relates to their Partner Pokémon. Just like the previous version, the lyrics are handled by the tremendously popular rapper Fuma no KTR, as well as Ryogo Matsumaru, Kaiyu Fujimoto and the Pokémon Rap Yattemi-tai from the riddle creator team RIDDLER Inc.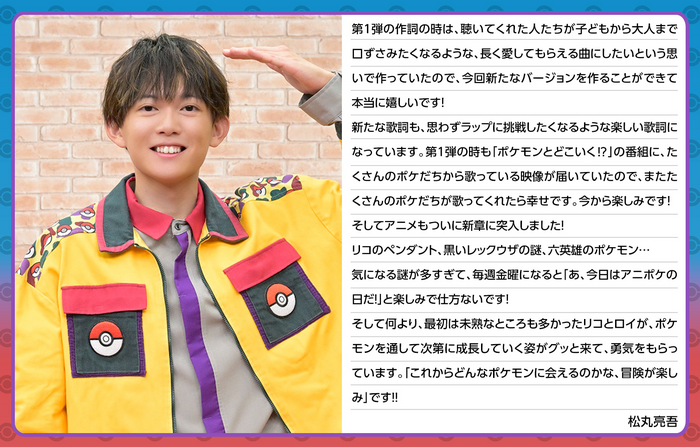 A comment from Ryogo Matsumaru:
When I was writing the lyrics for the first version of this song, I wanted to make a song that the listeners would love for years to come and want to hum to themselves no matter how old they were, so it made me really happy that I got to make another version of it too!
Just like the previous lyrics, these new ones are really fun and will make you want to try rapping along just by hearing them. While the first version was airing on TV the Pokémon to Doko Iku? show received a lot of videos of Pokénds singing the song, so I'd be delighted to see lots of Pokénds sing this new one too. I'm looking forward to it already!
The anime has finally started a new chapter too! Liko's pendant, the mystery of the Black Rayquaza, the Six Hero Pokémon... there are so many intriguing mysteries in this show that I can't help but go "Nice, it's Pokémon anime day today!" every Friday!
More than anything, seeing Liko and Roy, two characters that had so much to learn at first, gradually grow and mature thanks to their Pokémon really tugs at my heart and encourages me! "Kore kara donna Pokémon ni aeru no ka na, boken ga tanomshimi"!!