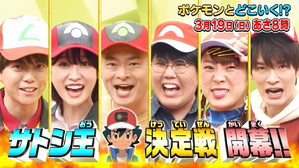 Titles
Snow Man深澤を始め、サトシを愛する芸人が集結! / 見事サトシ王に輝いた1名には梨香姉から粋なサプライズが
Snow Man Fukazawa wo hajime, Satoshi wo ai suru geinin ga shūketsu! / Migoto Satoshi-ō ni kagayaita 1mei ni wa Rice-nee kara iki na surprise ga
Celebrities That Love Satoshi Gather, Including Fukazawa from Snow Man! / The Person Crowned Satoshi Champion Receives a Wonderful Surprise from Rica-nee
Airdates
OP/ED List
PokéDoko

Japanese Summary:
Snow Man深澤を始め、サトシを愛するアイドル・芸人が集結!ピカチュウ当てクイズに、綱引き対決!見事サトシ王に輝いた1名には梨香姉から粋なサプライズが♪

アニポケ好きの名誉をかけて!負けられない戦いが始まる!

Japanese Summary Translation:
Celebrities that love Satoshi gather, including Fukazawa from Snow Man! They'll play a Pikachu guessing game and tug-of-war! And the person crowned Satoshi Champion will receive a wonderful surprise from Rica-nee

It's time for games nobody can afford to lose! Their honor as Pokémon anime fans is at stake!
No notes available for this episode.
Japanese Music:
Music Statistics:
Number of Assigned Tracks to the Japanese Original: 0
Number of Assigned Tracks to the English Dub: 0