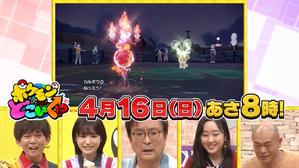 Titles
『ポケモンSV』を基礎から学ぶ、やさしい初心者講座! / 新登場ポケカ拡張パック / アニポケ『新エンディングテーマプロジェクト』
"Pokémon SV" wo kiso kara manabu, yasashī shoshinsha kōza! / Shin tōjō PokéCa kakuchō pack / Anipoké "shin ending thema project"
A Simplistic Beginner's Course that Teaches Pokémon SV from the Ground Up! / New Pokémon Card Game Expansion Packs / The New Ending Theme Project for the Pokémon Anime
Airdates
OP/ED List
PokéDoko

Japanese Summary:
『ポケモンSV』を基礎から学ぶ、やさしい初心者講座!初カチこみに初イメチェン!ポケだちの本田望結もポケモンデビュー!?ジムバトルの挑戦も▽新登場ポケカ拡張パック

アニポケ『新エンディングテーマプロジェクト』あの超ビックなラッパーが全面協力!!

Japanese Summary Translation:
A simplistic beginner's course that teaches Pokémon SV from the ground up! The first Barrage and the first makeover! Pokénd Miyu Honda makes her Pokémon debut as well?! There'll also be a gym battle challenge Also, new Pokémon Card Game expansion packs!

The new ending theme project for the Pokémon anime gets the full support of a certain super big name rapper!
No notes available for this episode.
Japanese Music:
Music Statistics:
Number of Assigned Tracks to the Japanese Original: 0
Number of Assigned Tracks to the English Dub: 0