| | |
| --- | --- |
| Start/End Dates | 2011-02-21 through 2011-03-06 |
| Country | United States |
Details
This is the same Celebi that was distributed in Japan for the 13th Pocket Monsters movie. If this Celebi is transferred to Pokémon Black and White via the Transfer Machine, it will allow players to get a Zorua in Castelia City.
This Celebi was the officially distributed event for Canada and the United States at participating GameStop locations.
Press Release
Free Exclusive Character Distribution! Get Celebi!
Bring your Nintendo DS or Nintendo DSi system and your copy of Pokémon HeartGold Version, Pokémon SoulSilver Version, Pokémon Platinum Version, Pokémon Diamond Version and Pokémon Pearl Version game (each sold separately) to receive Celebi.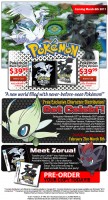 Click on image for higher resolution
Identification
| | |
| --- | --- |
| Pokéball: | Cherish Ball |
| Species: | Celebi |
| Nickname: | CELEBI |
| OT Name: | WIN2011 |
| Level: | 50 |
| Gender: | Male |
| Ability: | Natural Cure |
| Nature: | Lonely |
| Shiny: | Unknown |
| Ribbons: | |