Title: Pokémon Center - National Dex Zukan Metal Charms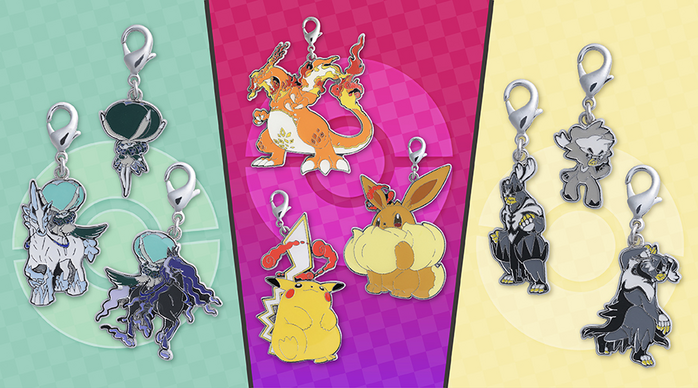 On Saturday, July 3rd, 2021, a new series of National Dex Zukan Metal Charms will appear at the Pokémon Center! Set in the Galar region of Pokémon: Sword and Shield, the new 13 Pokémon lineup includes Dakuma and Wulaosu, which can be found in the Isle of Armor, and Budrex, which can be found in the Crown Tundra.
Pictures of some of the charms have been added to an Imageboard thread
.
In addition, the Pokémon in their Gigantamax forms also appear as Gigantamax Metal Charms! It's three to four times the size of the standard National Dex Metal Charm. Collect all your favorite Pokémon! Pokémon Center Online will start selling them from 10:00 a.m. on Thursday, July 1st, 2021!
Please note that the release of these products may be postponed or cancelled due to the situation in the production area. Please be aware of this beforehand.
At the Amazon.co.jp Pokémon Store, pre-orders for products with a (★) will be starting on July 3rd, 2021, and sales starting on July 10th, 2021, but due to the limited number of products available, they may be sold during the pre-order period.
Item List (English):
Metal Charm Gigantamax Fushigibana - 561 yen (★)
Metal Charm Gigantamax Lizardon - 561 yen (★)
Metal Charm Gigantamax Kamex - 561 yen (★)
Metal Charm Gigantamax Butterfly - 561 yen (★)
Metal Charm Gigantamax Pikachu - 561 yen (★)
Metal Charm Gigantamax Nyarth - 561 yen (★)
Metal Charm Gigantamax Kairiky - 561 yen (★)
Metal Charm Gigantamax Gangar- 561 yen (★)
Metal Charm Gigantamax Kingler - 561 yen (★)
Metal Charm Gigantamax Laplace - 561 yen (★)
Metal Charm Gigantamax Eievui - 561 yen (★)
Metal Charm Gigantamax Kabigon - 561 yen (★)
Metal Charm Gigantamax Dustdas - 561 yen (★)
Metal Charm Gigantamax Melmetal - 561 yen (★)
Metal Charm Gigantamax Gorirander - 561 yen (★)
Metal Charm Gigantamax Aceburn - 561 yen (★)
Metal Charm Gigantamax Inteleon - 561 yen (★)
Metal Charm Gigantamax Armorga - 561 yen (★)
Metal Charm Gigantamax Eolb - 561 yen (★)
Metal Charm Gigantamax Kajirigame - 561 yen (★)
Metal Charm Gigantamax Sekitanzan - 561 yen (★)
Metal Charm Gigantamax Appryu Gigantamax Flapple - 561 yen (★)
Metal Charm Gigantamax Sadaija - 561 yen (★)
Metal Charm Gigantamax Strinder - 561 yen (★)
Metal Charm Gigantamax Maruyakude - 561 yen (★)
Metal Charm Gigantamax Brimuon - 561 yen (★)
Metal Charm Gigantamax Ohlonge - 561 yen (★)
Metal Charm Gigantamax Mawhip - 561 yen (★)
Metal Charm Gigantamax Daioudou - 561 yen (★)
Metal Charm Gigantamax Duraludon - 561 yen (★)
Metal Charm Eternamax Mugendina - 561 yen (★)
Metal Charm Gigantamax Wulaosu (Single Strike Style) - 561 yen (★)
Metal Charm Gigantamax Wulaosu (Rapid Strike Style) - 561 yen (★)
National Dex Zukan Metal Charm 891 and 892 - 561 yen (★)
National Dex Zukan Metal Charm 894 - 198 yen
National Dex Zukan Metal Charm 895 - 198 yen
National Dex Zukan Metal Charm 896 - 198 yen
National Dex Zukan Metal Charm 897 - 198 yen
National Dex Zukan Metal Charm 898 - 561 yen (★)
National Dex Zukan Metal Charm G079, G080, G199 - 561 yen (★)
National Dex Zukan Metal Charm G144 - 198 yen
National Dex Zukan Metal Charm G145 - 198 yen
National Dex Zukan Metal Charm G146 - 198 yen
Item List (Japanese):
メタルチャーム「キョダイマックスフシギバナ」 561円(★)
メタルチャーム「キョダイマックスリザードン」 561円(★)
メタルチャーム「キョダイマックスカメックス」 561円(★)
メタルチャーム「キョダイマックスバタフリー」 561円(★)
メタルチャーム「キョダイマックスピカチュウ」 561円(★)
メタルチャーム「キョダイマックスニャース」 561円(★)
メタルチャーム「キョダイマックスカイリキー」 561円(★)
メタルチャーム「キョダイマックスゲンガー」 561円(★)
メタルチャーム「キョダイマックスキングラー」 561円(★)
メタルチャーム「キョダイマックスラプラス」 561円(★)
メタルチャーム「キョダイマックスイーブイ」 561円(★)
メタルチャーム「キョダイマックスカビゴン」 561円(★)
メタルチャーム「キョダイマックスダストダス」 561円(★)
メタルチャーム「キョダイマックスメルメタル」 561円(★)
メタルチャーム「キョダイマックスゴリランダー」 561円(★)
メタルチャーム「キョダイマックスエースバーン」 561円(★)
メタルチャーム「キョダイマックスインテレオン」 561円(★)
メタルチャーム「キョダイマックスアーマーガア」 561円(★)
メタルチャーム「キョダイマックスイオルブ」 561円(★)
メタルチャーム「キョダイマックスカジリガメ」 561円(★)
メタルチャーム「キョダイマックスセキタンザン」 561円(★)
メタルチャーム「キョダイマックスアップリュー・キョダイマックスタルップル」 561円(★)
メタルチャーム「キョダイマックスサダイジャ」 561円(★)
メタルチャーム「キョダイマックスストリンダー」 561円(★)
メタルチャーム「キョダイマックスマルヤクデ」 561円(★)
メタルチャーム「キョダイマックスブリムオン」 561円(★)
メタルチャーム「キョダイマックスオーロンゲ」 561円(★)
メタルチャーム「キョダイマックスマホイップ」 561円(★)
メタルチャーム「キョダイマックスダイオウドウ」 561円(★)
メタルチャーム「キョダイマックスジュラルドン」 561円(★)
メタルチャーム「ムゲンダイマックスムゲンダイナ」 561円(★)
メタルチャーム「キョダイマックスウーラオス(いちげきのかた)」 561円(★)
メタルチャーム「キョダイマックスウーラオス(れんげきのかた)」 561円(★)
全国ずかんメタルチャーム891・892 561円(★)
全国ずかんメタルチャーム894 198円
全国ずかんメタルチャーム895 198円
全国ずかんメタルチャーム896 198円
全国ずかんメタルチャーム897 198円
全国ずかんメタルチャーム898 561円(★)
全国ずかんメタルチャームG079・G080・G199 561円(★)
全国ずかんメタルチャームG144 198円
全国ずかんメタルチャームG145 198円
全国ずかんメタルチャームG146 198円
Source:
https://www.pokemon.co.jp/goods/2021/06/210625_go01.html