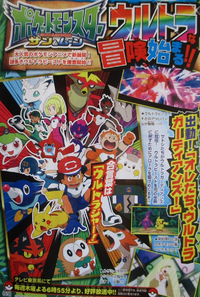 AN ULTRA ADVENTURE BEGINS!!
New developments take place in the super popular Pokémon anime!
The search for the highly mysterious Ultra Beasts begins!!

"Set Off! We Are The Ultra Guardians!!"
Satoshi and the others have been inaugurated as Ultra Guardians! They will travel around Alola in order to return the Ultra beasts to the world they came from!!

The keyword is "Ultrager"!

*Fierce battles with Ultra Beasts break out...!!?
*Pikachu gets startled by a mysterious Pokémon that suddenly appears!
*Lusamine gives Satoshi and the others their orders! Set off!