Pokémon Campaign with Qiren Organisation
Posted:
04 Feb 2019 07:43 PM
Author:
Sunain
Tagged In:
Press Release
Qiren Organization is running a 3-month island-wide campaign with Pokémon in Singapore. The campaign comprises of Pikachu parades and Meet & Greets in 10 shopping malls as well as Pokémon decoration within Qiren's offices. The Qiren Organization has become one of the fastest-growing agencies in Singapore with exceeding 200 Financial Services Consultants and appointed managers.
Venue:
Qiren West Hub
2 Venture Dr, level 21 Vision Exchange, Singapore 608526
Opening hours for the hub: 9am – 6pm daily
Qiren Tampines Hub
9 Tampines Grande, #02-11 to 22, Singapore 528735
Opening hours for the hub:
Monday – Friday, 9am – 6pm
Saturday, Sunday, 9am – 7pm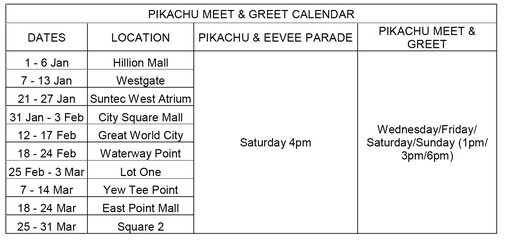 Source:
https://sg.portal-pokemon.com/topics/event/190125163806_post_12.html