Pokémon Card Game Sword and Shield - First Promotional Card Revealed!
Posted:
27 Sep 2019 08:54 AM
Author:
Sunain
Tagged In:
TCG

The official Japanese Pokémon Card Game website has announced the first Sword and Shield promo card. The
Pikachu (001/S-P)
card is being exclusively distributed to people who pre-order a copy of Pocket Monsters Sword or Shield through 7net. The cards full card artwork features Pikachu and the 3 Galar starter Pokémon: Sarunori, Hibanny and Messon. The card can be played with expansion packs and pre-built decks and it can also be used in official competitions.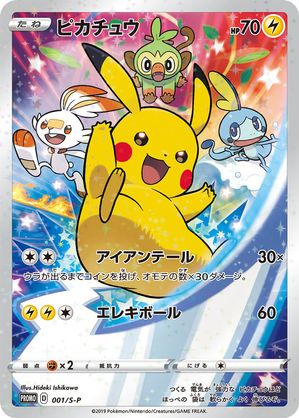 Sources:
https://7net.omni7.jp/general/027001/190712pokemon
and
https://www.pokemon-card.com/info/2019/20190922_002063.html