Three new Pokémon Rumble Blast passwords have been announced. Below are the passwords and the press release.
The passwords have also been added to our Pokémon Rumble Blast Password page
.
Press Release
Add Zoroark to Your Pokémon Collection in Pokémon Rumble Blast with a Special Password!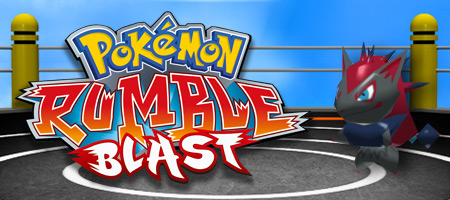 With over 600 kinds of Toy Pokémon to befriend in Pokémon Rumble Blast, it can be a big challenge to find them all. Here's one to get you started! With the Password below, you can befriend Zoroark. Unlike any other Zoroark you might meet, this Zoroark has a unique Special Trait, "PokéTC," which will give you a boost in Two-Player mode and in Team Battles. Once you enter the Password, visit the Frozen Tundra area to find the Toy Pokémon Zoroark.
To enter the Password in your Pokémon Rumble Blast game, you'll first need to reach Easterly Town in your adventure. Once you get there, talk to Munna, who will ask for your Password. Enter the Password to unlock the special Toy Pokémon. Zoroark will be waiting for you in the Frozen Tundra, so keep an eye out for it as you explore that area!
Source:
http://www.pokemon.com/us/news/vg_pokemonrumbleblast_zoroark-2011-11-14/