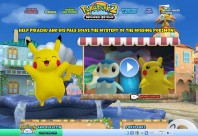 The official
PokéPark 2: Wonders Beyond
has launched. The site includes information on the game, screenshots, the trailer and wallpapers. The names of some of the attractions were revealed including:
Dance inferno
where players get the Pokémon to dance to the music by shaking the Wii Remote controller at the right time to match the symbols on the screen and
Power Bash
an attraction where players shake the Wii Remote at just the right time to give the Pokémon a big smash! Two areas were also revealed including: the
Arcane Area
and
Cove Town
which was called Port Town in the Japanese version.
The site allows players to learn all about the upcoming PokéPark2: Wonders Beyond game for the Wii console. It also allows them to discover some of the amazing places they'll visit and Pokémon they'll meet while playing as Pikachu, Oshawott, Snivy, and Tepig. Also players will get an early look at all the cool activities they'll be able to play in PokéPark and Wish Park.
Source:
http://www.pokeparkwii.com/pokepark2/en-us/