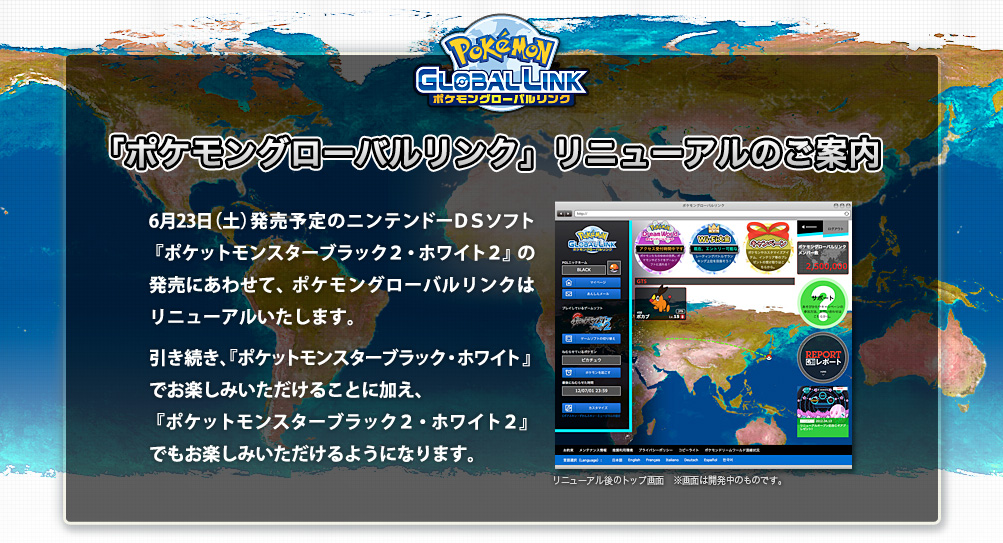 The official Japanese version of the Pokémon Global Link has announced that the site and system will be undergoing updates for the upcoming games
Pokémon Black 2 and White 2 (ポケットモンスター ブラック2・ホワイト2)
. As a result, the site and services will be down of Japanese players from
June 5th, 2012 until June 16th, 2012
. The site is scheduled to reopen on
June 21st, 2012
.
During the service update the following will be unavailable:
The announcement has indicated that when the service reopens, the Pokémon Dream World accessibility cut-off time will be reduced from from 24 hours to 20 hours. C-Gears skins will be available in
Pokémon Black 2 and White 2
. There will be new Pokémon for the Dream Isles as well as new decorations for players houses and there will be new areas. One new area that has been announced is the
Cool Hole (ひんやり穴)
.
A new feature to keep track of players Global Battle Union matches and tournament rankings will be available. The Global Trade Station will see improvements as well and will allow players to see their trade history. There is also a promotion that will unlock something for players that register a
Pokémon Black and White
game and a
Pokémon Black 2 and White 2
game.
Source:
http://ja.pokemon-gl.com/renewal2012/
Official English News Announcement
Discover cool new features with the relaunch of the Pokémon Global Link!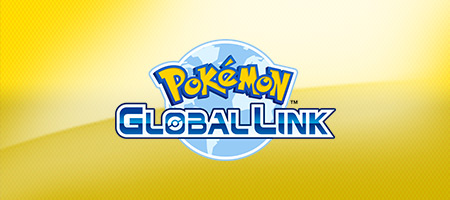 Get ready for even more fun at the Pokémon Global Link! The site is about to undergo a huge update, which will include some new features and a better experience for visitors!
During this update, the Pokémon Global Link website will undergo a maintenance period and will be inaccessible. For the duration of the maintenance period, all Pokémon Global Link services will be unavailable, including Game Sync and Random Matchup Rating Mode battles in Pokémon Black Version and Pokémon White Version.
One important change to the Pokémon Dream World you should really know about:
Berries you've collected won't stay in your Treasure Chest forever! If you don't visit the Pokémon Dream World for a long time, after 100 days the Tree of Dreams will begin to absorb your Berries and convert them into Dream Points. One of each kind of Berry you own will remain in your Treasure Chest, however. The 100-day countdown begins before the Pokémon Global Link goes into its maintenance period, so be sure to log into your account when the updated site goes live if you want to keep all your Berries!
The maintenance period will begin at 3:00 A.M. ET, Tuesday, June 5th, and run through Thursday, June 21st*. During that time, all features of the Pokémon Global Link (and related Nintendo Wi-Fi Connection features) will be unavailable. Additionally, you will not be able to wake up any Pokémon you've tucked in during the maintenance period.
Please be sure to wake up any Pokémon you've tucked in before the maintenance period begins!
Source:
http://www.pokemon.com/us/pokemon-news/pgl_maintenance_2012-2012-05-01/