Players of the Korean versions of Pocket Monsters Black 2 and White 2 that attend the Korean 2013 Nationals will have the opportunity to get 5 event Pokémon:
Mangnanyong (망나뇽)
,
Hassam (핫삼)
,
Magiraseu (마기라스)
,
Metageuroseu (메타그로스)
and
Hankariaseu (한카리아스)
. 5 distribution days have been revealed but only dates for three periods have been revealed. The first two distributions will take place at the Seoul Trade Exhibition and Convention Center (SETEC) located at 514 Daechi-dong, Gangnam-gu in Seoul, South Korea.
The Pokémon are almost identical to those that were released in Japan last year
.
| | | |
| --- | --- | --- |
| 1 | 2013/02/24 - 1-6PM | SETEC |
| 2 | 2013/03/30 - 1-6PM | SETEC |
| 3 | 2013/04/20 | TBA |
| 4 | TBA | TBA |
| 5 | TBA | TBA |
Source:
http://pokemonkorea.co.kr/html/news/news_view.asp?N_IDX=756
Nagoya Pokémon Center - Alternate Colored Koiking
The official Japanese website has revealed that a level 99 alternate colored Koiking will be distributed via local wireless at the Nagoya Pokémon Center. The distribution event is to celebrate the relocation of the Nagoya Pokémon Center. The Koiking will be holding a Rare Candy and know the following moves:
Flail
,
Hydro Pump
,
Bounce
and
Splash
. The Koiking will be available from
March 20th, 2013 until May 6th, 2013
for players of the Japanese versions of Pocket Monsters Black, White, Black 2 and White 2.

The new Nagoya Pokémon Center will open on March 20th, 2013 and will be located on the 5th floor of the
Matsuzakaya
.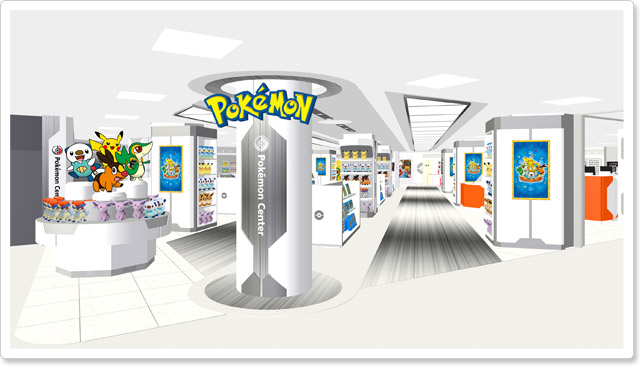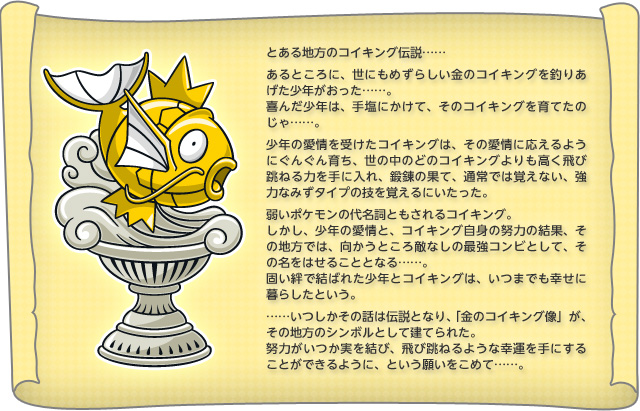 The Legend of a Magikarp of a certain Region......
Once there was a boy who had fished out a very unusual, golden Magikarp......
Delighted, the boy raised the Magikarp with tender care......
Feeling and wanting to repay the boy's love, Magikarp grew and grew, acquiring the power to jump higher than any other Magikarp in the world; at the end of its training, it had learned powerful Water type moves that could usually not be learned.
Magikarp is often a synonym for weak Pokémon. However, as a result of the boy's love as well as Magikarp's own efforts, they became widely-known as the strongest combo in their region and no one was a match for them......
Linked by a strong bond, the boy and Magikarp are said to have lived happily ever after.
......Before everyone knew it, the story had turned into a legend and a "Golden Magikarp Statue" was set up as the symbol of that region, filled with the wish that eventually, efforts will bear fruit and happiness, seemingly jumping up and down, can be obtained......
Source:
http://www.pokemon.co.jp/ex/pokecen_nagoya/