Nintendo France has announced that a Shiny Rayquaza will be distributed to players of
Pokémon Omega Ruby and Alpha Sapphire
at the Paris Games Week 2015 which takes place from October 28th, 2015 until November 1st, 2015.
This Rayquaza will be the same as the one already distributed throughout the world
. It will be available in Hall 1 A 002 at the Nintendo stand, pavilions 1 and 2 at the
Paris expo Porte de Versailles
exhibition centre in Paris, France.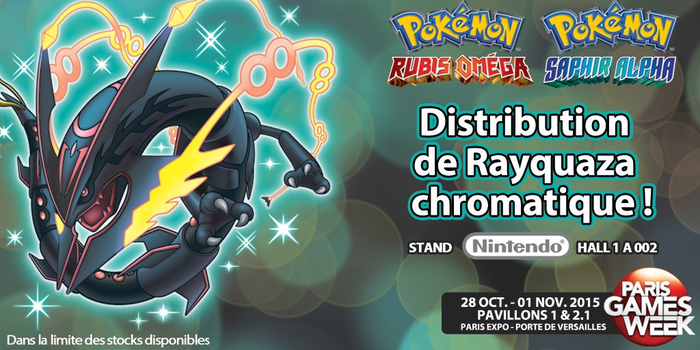 Paris Games Week 2015
Grand rassemblement de joueurs Nintendo en vue, participez aux 5 jours de tournois gratuits sur le stand Nintendo de la Paris Games Week-porte de Versailles
RDV à partir du 28 octobre sur le stand Nintendo pour participer aux tournois. Splatoon, Super Smash Bros., Pokémon Rubis Oméga et Pokémon Saphir Alpha et Monster Hunter 4 Ultimate
Outre les nombreuses versions jouables, Nintendo propose aux joueurs de se retrouver sur des tournois gratuits : qualifications quotidiennes ou finales nationales, demandez le programme de ce stand à l'ambiance bouillante.
15 Octobre, 2015 - Nintendo sera encore une fois présent au salon Paris Games Week qui se tiendra du 28 octobre au 1er novembre au Parc des expositions Paris Expo – Porte de Versailles. Cette année encore les joueurs de tous horizons se donneront rendez-vous sur le stand Nintendo de 10H à 19H* pour tenter de remporter les tournois quotidiens gratuits et ouverts à tous. Alors n'oubliez pas de vous munir de vos consoles Nintendo 3DS, Nintendo 2DS ou New Nintendo 3DS et de vos jeux pour participer aux différents tournois.
Le tournoi Pokémon Rubis Omega et Pokémon Saphir Alpha :
Les Pokédex ont eu le temps de se remplir, les entraineurs ont pu affiner leur stratégie et c'est tant mieux : le niveau sera plus qu'élevé durant la Paris Games Week. Tous les dresseurs de France et d'ailleurs sont attendus pour les tournois quotidiens Pokémon Rubis Omega et Pokémon Saphir Alpha. Pour ces tournois, il est nécessaire de venir avec sa Nintendo 3DS et son exemplaire du jeu. Les gagnants pourront repartir avec une console Wii U Edition Limitée Mario Kart 8 + Splatoon
Source:
http://www.nintendo.fr/News/-venements/2015/Paris-Games-Week-2015-1060440.html