Pokémon merchandise will be
returning to Japan LA
on Saturday, February 27th, 2016 from 6pm to 10pm for Pokémon Day.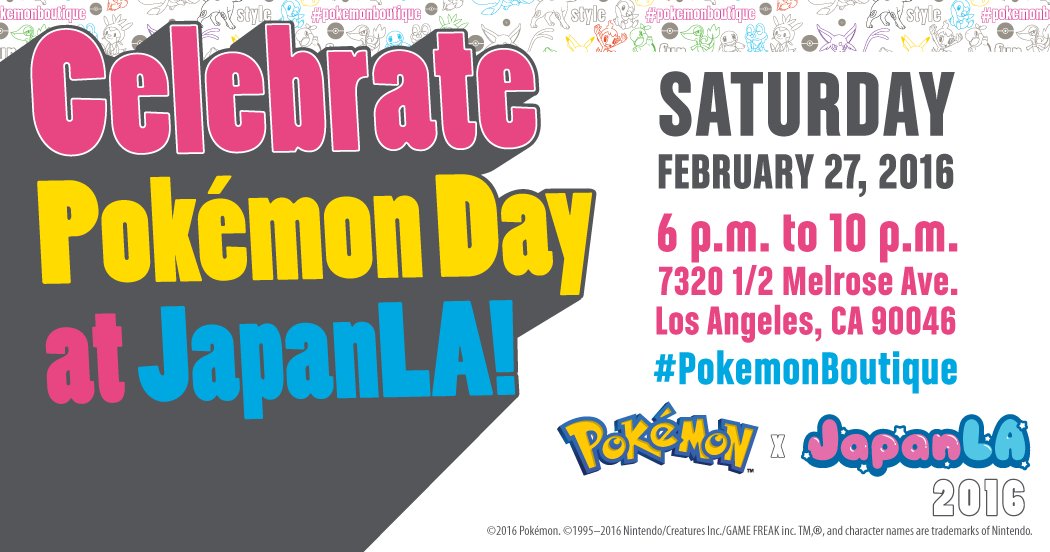 Press Release - Pokémon Returns to Japan LA!
Visit the pop-up shop at Japan LA in Los Angeles starting on Pokémon Day—Saturday, February 27, 2016!
In collaboration with Pokémon, Japan LA Pop Culture Shop is once again hosting a pop-up shop featuring special Pokémon merchandise! Come check out cool Pokémon-themed products from a long list of specialty designers and companies, many of which you won't find anywhere else.
The fun kicks off with opening night activities on Pokémon Day, Saturday, February 27, including a Pokémon photo booth, trivia games, gifts with purchase, and more. If you're in Los Angeles and are interested in seeing Pokémon fashion like never before, don't miss this opportunity! The doors open at 6 p.m. This event is sure to be popular, so get there plenty early.
If you can't make it to opening night, the pop-up shop will be open every day until March 27. Don't miss your chance to visit the Pokémon pop-up shop at Japan LA and check out the awesome Pokémon merchandise!
Sources:
http://www.pokemon.com/us/pokemon-news/pokemon-returns-to-japan-la/
and
https://twitter.com/Pokemon/status/700735526618288128