The official Pokémon website has announced that
Pokémon: Sun & Moon, Vol. 1
manga was released in North America by VIZ Media on May 8th, 2018. The ISBN-10 is: 1974700755 while the ISBN-13 is: 978-1974700752. The volume is retailing for $4.99 USD.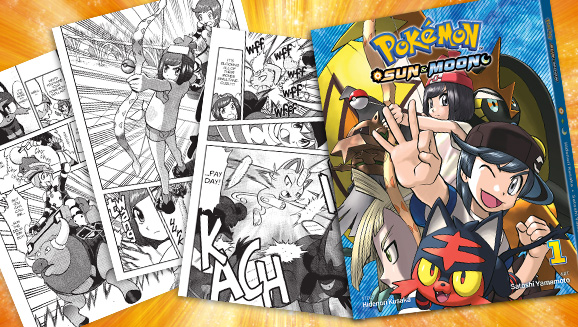 The Pokémon Manga Heads to Alola!
Follow the adventures of Moon and Sun with the launch of VIZ's latest Pokémon manga, Pokémon: Sun & Moon, Vol. 1.
A new chapter of VIZ's long-running Pokémon manga is about to begin with the launch of the latest series, Pokémon: Sun & Moon, Vol. 1. Headed up by the popular creative team of writer Hidenori Kusaka and artist Satoshi Yamamoto, Pokémon: Sun & Moon follows a Pokémon Trainer named Moon in a series of adventures that is markedly different from those we've seen in the video games and the animated Pokémon the Series.
As the story begins, Moon is on her way to deliver a rare Pokémon to Professor Kukui in the Alola region. Along the way, she crosses paths with Sun, a delivery boy who's been entrusted with a special Pokédex. Together, the two set off for the professor's lab, but they're waylaid by some troublesome Team Skull grunts and attacked by a mysterious Pokémon. When the Pokémon leaves behind an equally mysterious sparkling stone, it becomes clear that this is only the beginning of Moon and Sun's fantastic journey!
The first volume in this ongoing series features 80 fun-filled pages, and it's available now where books are sold. See Alola in a whole new light in Pokémon: Sun & Moon, Vol. 1, and look for the second volume to arrive in September 2018.
Source:
https://www.pokemon.com/us/pokemon-news/the-pokemon-manga-heads-to-alola/
Sampler Pages: