Powerful Pokémon like the amazing Renegade Pokémon Giratina and the incredible Gratitude Pokémon Shaymin will take your game higher than ever before with these specially designed Pokémon Trading Card Game: Sky-High Collector's Tins. Each one contains 1 of 3 fantastic Pokémon LV.X—Giratina, Shaymin, or the Temporal Pokémon Dialga—that will rise to challenge the others!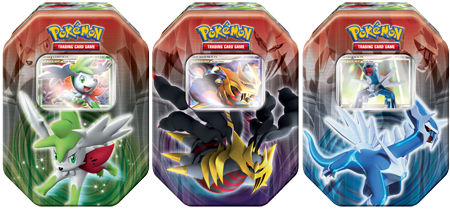 In each tin, you'll find:
* 4 Pokémon TCG boosters—2 Diamond & Pearl Series and 2 Platinum Series.
* 1 of 3 foil Pokémon LV.X cards—Giratina, Shaymin, or Dialga.
* A great window design for displaying your favorite card!
Source:
http://go-pokemon.com/tcg/news/articles/113.html