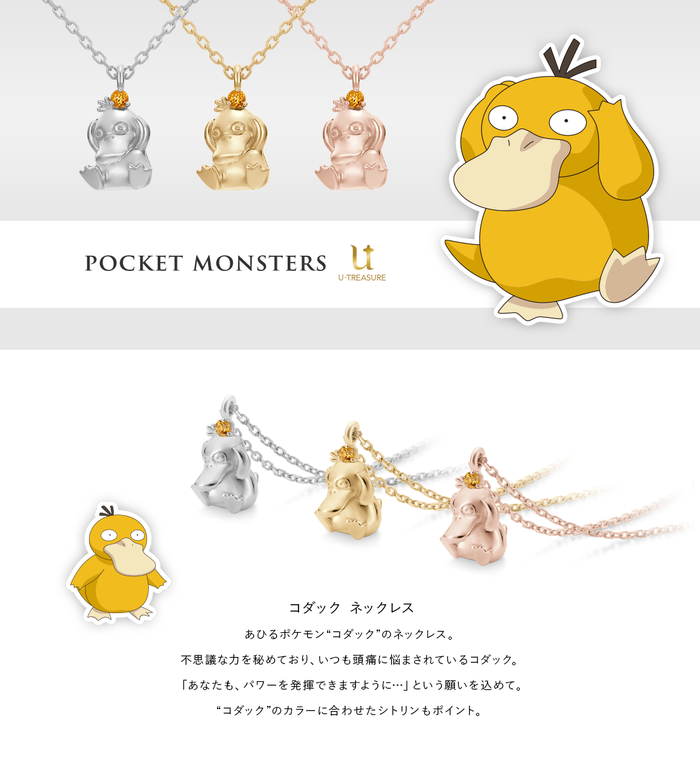 U-TREASURE has announced that they will be selling Koduck necklaces. The silver version will only be available for a limited time from February 8th, 2021 until March 9th, 2021. It is available in 4 different metals: Silver, Yellow Gold, Pink Gold and Platinum. The other version will be available from February 8th, 2021 until supplies last.
An Imageboard thread has been added that features pictures of these necklaces
.
Product Details:
A necklace of the duck Pokémon Koduck. Koduck has a mysterious power, but always suffers from headaches. This necklace is made with the wish that "You, too, can exert your power...". The citrine on the top of its head matches the color of Koduck.
Specifications:
Materials: 925 silver (without rhodium plating) / K18 Yellow Gold / K18 Pink Gold / Platinum 950 (motif part), Platinum 850 (chain) Chain: 45cm in length (with a 5cm adjuster ring, about 0.9mm wide)
Motif: 13.75mm (not including the beehive), 8.4mm (width), 9.7mm (thickness)
Stone: Citrine (approx. 2 mm x 1 mm)
Item Numbers: NPOL-160-SV / NPOL-160-K18YG / NPOL-160-K18PG / NPOL-160-PT
Prices: ¥15,400 / ¥99,000 / ¥99,000 / ¥110,000 (tax included)
Source:
https://www.u-treasure-onlineshop.jp/fs/utre/c/koduck
Junichi Masuda Twitter Post
Composer, Director and Producer of Pokémon Junichi Masuda, who's favorite Pokémon in Koduck exclaimed, "No way!! (まさかの!!)" on a tweet posted on February 8th, 2021. Obviously happy and surprised that there was Koduck merchandise like this, he told fans that pre-orders opened that day and posted a link with more information.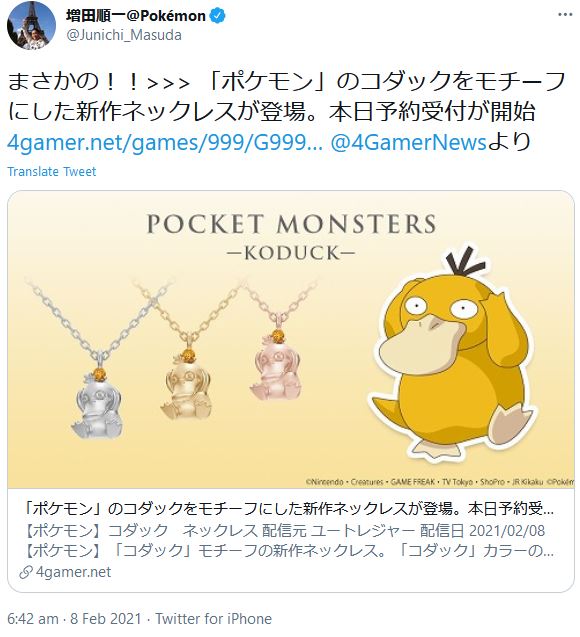 Source:
https://twitter.com/Junichi_Masuda/status/1358743013636272130