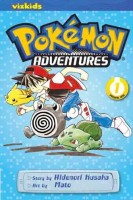 VIZ MEDIA DELIVERS SCI-FI, ROMANCE, NINJA, DINOSAURS AND HEAVY METAL IN THE SECOND QUARTER OF 2009 - Ten New Manga Series – Something For Everyone
VIZ Media, LLC (VIZ Media), one of the entertainment industry's most innovative and comprehensive publishing, animation and licensing companies, has announced ten new manga series set to debut throughout the Second Quarter of 2009.
Pokémon Adventures, Vol. 1 (2nd Edition) • Rated 'A' for All Ages • MSRP: $7.99 US / $9.50 CAN • Available June 2
Go back to where the adventures of Ash and Pikachu all began in this new edition of the very first POKÉMON saga!
Pokemon Elements Vol. 1: Grass
and
Pokemon Elements Vol. 2: Fire
will be released on July 28 and retail for $9.98 each. These theme DVDs will each carry three episodes keyed to a different Pokemon character; Grass will include the episodes "Grass Hysteria!" "The Grass Root" and "Now That's Flower Power!" while Fire will include "The Flame Pokemon-athon!" "Good 'Quil Hunting" and "All Torkoal, No Play."