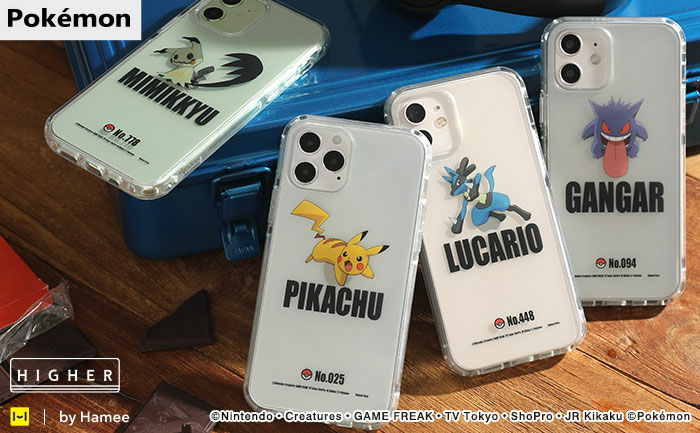 Hamee Co., Ltd. which develops smartphone goods will release iPhone 12/ Pro Exclusive Pocket Monsters Hybrid Case from HIGHER, which is a clear smartphone case that uses high-performance TPU and does not easily discolor. Pre-orders will start on August 26th, 2021, and will be sent out in late August 2021.
Specially processed smartphone case that casts shadows on Pokémon when exposed to light
This product is a hybrid case for iPhone 12 and 12 Pro and is an exclusive Pokémon design by HIGHER. There are four types in the lineup: Pikachu, Gangar, Lucario, and Mimikyu. The Pokémon are printed in a large size on each design to look three-dimensional when exposed to light. By giving the Pokémon a three-dimensional effect, it has a presence that seems to move.
Despite its neat shape, the air cushions are stretched around the sides like a tube to achieve excellent impact resistance that protects the smartphone from accidental drops. Furthermore, by sandwiching the high-performance TPU Elastollan® between his two PET films, it is easier to put on and take off, and the round edge of the case corner is also carefully designed. They are particular about comfort. HIGHER is a brand of new clear cases in which attention is paid to the materials and structures to make sure it performs well for impact resistance and weather resistance.
Product Details:
iPhone 12/12 Pro Pocket Monsters HIGHER Hybrid Case
URL:
https://www.strapya.com/collections/hamee
Price: 2,500 yen (2,750 yen including tax)
Compatible models: iPhone12 / 12 Pro
Body: Approximately 15.2 x 7.7 x 1.2 cm thick
Weight: Approximately 38g
Main material: TPU (Elastollan®), PET
Strap attachment: Yes
Wireless charging: Yes
Product Features:
・ It looks like the character pops out when exposed to light.
・ Excellent impact resistance that has passed drop tests
・ Strong against yellowing and long-lasting transparency
・ Antibacterial performance based on JIS Z 2801
・ Precision design that protects the camera
・ Strap can be attached